Does Positive Feedback Improve Safety?
Our client is an international utility company with more than 10,000 employees that provides electric and natural gas to 20 million U.S. customers. Their vision is to achieve a generative safety culture in which both employees and leaders are actively engaged. Characteristics of a generative safety culture include proactively resolving issues, focusing on leading indicators, and welcoming bad news as an opportunity for improvement, not for implementing discipline.
The company is well on their way to that destination, and it's due in no small part to their employees' dedication to their jobs, the training they've completed to excel in their work and their passion for wanting to create one of the best safety cultures in the utility industry.
The most recent step in their journey was to follow up on the insight they gained from a safety culture survey. That survey revealed there was opportunity for improvement regarding how frequently leaders provided positive feedback and recognized their team members for performing work safely.
"We're so lucky that our employees shared their honest opinions with us during the safety culture survey, and we wanted to make sure that we honored their feedback by following through on their comments," said a company director involved in the training initiative. "While there were multiple areas for improvement, we decided to target positive feedback first because it was building on a skill we knew our employees already had. They were already good at providing feedback when things were unsafe. We hoped that if we could expand that skill to include recognizing safe behaviors that we'd see more of those safe behaviors and that those receiving feedback would feel more valued as team members."
We collaborated with our client to develop a custom training program that would both teach trainees that positive reinforcement is an effective leadership technique and provide a post-training support structure to help trainees practice the new behavior until it becomes a natural part of their leadership style.
The Approach
We selected 294 leaders in the northeastern United States across a wide range of positions, including foreman, site supervisor, safety supervisor and project manager.
Prior to developing the training, we interviewed a selection of potential trainees to identify obstacles that might prevent thorough engagement with the training and potential objections to adopting this new leadership technique. In our experience, there are often multiple existing obstacles to any behavioral change initiative. For example, there may be gaps in knowledge, logistical challenges, disbelief in the effectiveness of the proposed solution and resentment at being told what to do. Each objection needs to be addressed in order for employees to willingly and successfully change their behavior in accordance with the training. If you know what people need to hear and how they need to hear it, then your chances for success increase.
As a result of this pre-work, the training was favorably received across the board. In our post-training survey, more than 90% of survey respondents agreed that the training was valuable, held their attention and related well to their culture.
The Training
The final product was a two-hour training program that educated trainees on the value of positive feedback and provided them with a wide range of tools and strategies tailored to giving their team specific, meaningful and consistent feedback. Because each person's day unfolds differently and because every person has a unique leadership style, trainees were guided in a practice to identify exactly where, when and how they would provide positive recognition to their team. The process of taking a sometimes-nebulous concept like "positive feedback" and breaking it down to apply to their own day set trainees up for success. As one trainee told us in the post-training survey, "It's not easy to start something, and this gave me a realistic way to look at changing behavior."
To minimize disruption to trainees' schedules, the training was held via Microsoft Teams. We knew that – given trainees' busy schedules and the critical roles they play on their sites – we would be challenged to have their full attention for the entire training. We intentionally sought continuous interaction and used Teams' breakout room functionality to facilitate discussion, introduce trainees to co-workers they hadn't yet met, and keep employees engaged in the training from start to finish.
The Follow-Up
Our company's proprietary method is designed to support trainees after the training as they hone their new skill. Trainees received regular post-training micro lessons to help them retain key concepts from the training. In addition, trainees started the 60-Day Habit Challenge immediately after attending the training. During this time, they received daily notifications and tracked how frequently they provided positive feedback via a mobile app on their smartphones.
Another key component to our success was preparing trainees for the ups and downs of the learning process. When people try something new, they get nervous. They don't want to look stupid. We gave our trainees the confidence to try by preparing them to fail. One trainee reached out after the training to share with us, "Sometimes people thought I was being sarcastic. I learned that feedback had to be very specific to be received well." The good news is that this individual persisted – because he expected he would sometimes get it wrong. He knew that figuring out how providing positive feedback worked for him was just part of the process.
The Impact
Before the habit challenge started, trainees benchmarked their targeted behavior. Their benchmarks were re-evaluated at the end of the 60-day challenge and, weeks later, in return interviews.
We asked trainees how often they were providing positive feedback to their team members: never, once or twice per week, a few times per week, once per day or multiple times per day. Overall, trainees decreased positive feedback happening just a couple times per week or less by 75% while increasing it to a few times a week or more by 58%.
We also asked them to reflect on the amount of positive feedback they witnessed from their fellow leaders. A similar trend emerged, with a significant decrease in the "never" and "once or twice per week" categories but increases across all the other categories.
When we asked trainees how providing more positive feedback to their teams impacted them personally or at work, a surprising 64% reported that they felt more positive (see chart below). While this was an unintended and unanticipated impact, employees feeling more positive could be a potentially powerful tool in increasing employee retention. The primary drive behind the training was to increase safety culture and safety-related behaviors, so we were pleased that the next top benefits trainees reported were having better conversations, solving problems more creatively and sharing more information in daily job briefs.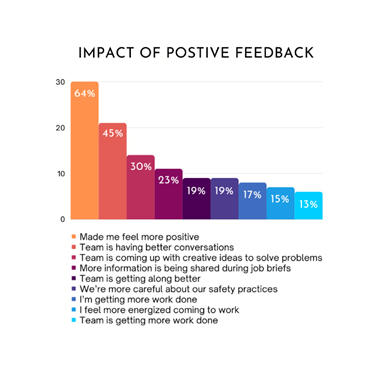 The impact of the training became clearer during the follow-up interviews. Trainees shared that increasing the amount of positive feedback improved safety, increased productivity and improved collaboration. For example, one site supervisor shared that after the training, he put his new skills to work. Among other things, he initiated a discussion with a contractor foreman about why it was important to mention the nearest emergency location information during daily briefings. When the foreman covered the topic in future briefings, the supervisor reinforced the behavior with positive feedback by thanking him. As a result, the foreman now consistently includes this critical information during daily briefings.
He was not the only person who noticed their team members changing their behavior in response to positive feedback. Another trainee reached out to say, "I'm old-school. I thought saying thank you was a little fluffy, but I started to see an impact right away."
In another interview, a trainee shared that while inspiring his team and providing lots of positive feedback was already a high priority for him, he had decided to kick it up a notch. The training had coincided with a move to a new and much larger site. His goal was to learn each person's name the day he met them and use their name at the end of the day. He noticed the positive reaction when people realized that he knew their name, and he credits this strategy for rapidly developing communication and trust. As a result, when his new crew encountered standing water at a site, they asked him to make a phone call to resolve it instead of finding a workaround that may or may not have been safe.
Conclusion
When a company is doing a lot of things right and already heavily investing in safety, the quick wins and easy solutions are typically already being addressed. But the more mature a safety culture, the harder it can be to identify the skills that will take the organization to the next level of safety. For our client, we hoped that increasing positive feedback and how often team members were recognized for performing work safely would be that next step.
We were pleased to see that team dynamics improved and that employees responded to positive feedback with more of the recognized behavior. But it wasn't just safety that improved. Work also became a happier, more engaging place for both those receiving the positive feedback and those delivering it.
About the Author: Sharon Lipinski is the Habit SuperHero and CEO of Habit Mastery Consulting (www.habitmasteryconsulting.com), which helps organizations increase their targeted safety behavior by up to 150%. She is a Certified Gamification for Training developer, certified CBT for insomnia instructor, speaker, TV personality and coach dedicated to helping people create the right habits so they can be happier, healthier and safer at home and in their work.
Does Positive Feedback Improve Safety?