Wearable Cooling Product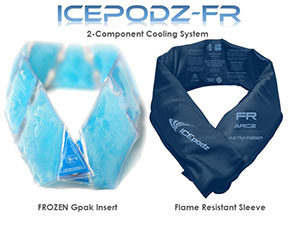 Serving the utility industry for over five years, ICEpodz-FR fills a critical need: combating heat and humidity to help alleviate and prevent heat-related illness and injury. Our field-tested and approved ARC2-rated PPE delivers dry, frozen, rapid and effective heat relief, helping to protect your workers on the job.
As the only product that begins cooling from a frozen solid state of 32 degrees, ICEpodz-FR provides the optimal cooling mechanics to maximize results, dissipating heat from the body to manage heat stress, even in 100% humidity. Our anatomical design impacts the critical circulatory system in the neck, delivering hands-free cooling that helps workers focus more on their job and less on the heat.
ICEpodz-FR is the only product that meets all utility industry criteria, according to the company, while exceeding the cooling ability, efficiency and durability of similar products. All components come with a manufacturer's warranty and are available with custom branding for your company.
ICEpodz www.icepodz.com