Using Task-Based Work Assignments to Create Proficient Crews
Preventing accidents in utility work, where safety is paramount, starts with establishing protocols for personnel and equipment. Creating task-based and specific work assignments is an affordable way to establish realistic parameters for work to be performed. Using this method enables crew leaders to develop consistency and reliability in assigning tasks by distinguishing between trainees and qualified personnel. Work is assigned based on skill proficiency, which in turn leads to risk mitigation and accident prevention.
The concept of grouping teams of workers by specific work assignment is nothing new. Success stories outside of the utility industry include military and police forces trained to respond to emergencies, trauma surgery teams, astronauts in space, NASCAR pit crews and the University of Alabama football team. Whether you are an Alabama fan or not, Coach Nick Saban's formula for a championship team involves drilling and honing skills of individual players. The result is a team that works together cohesively for outstanding performance.
In the same way, utility workers with the same job title and general responsibilities – lineworkers – come to the job with different years of experience, types of training and skills. Supervisors who recognize these differences can create outstanding crews by establishing parameters for skills that each person on the crew must have in common, as well as knowing who possesses task-specific talent.
To create a proficient team that performs as a cohesive unit, it's critical to first determine the skill, knowledge and ability of each individual crew member. These measurements define a baseline of strengths, weaknesses and gaps to fill. Not everyone on the crew needs to have the exact same skill level, but the crew's collective ability should instill confidence that the crew can work under pressure in adverse conditions without injury. If there are gaps in the collective ability, then you must plan to train and practice so that skills, techniques and technology meet your previously established protocols.
"There's no I in team," as the saying goes, but individuals are essential to successful task-based assignments. Each person on the crew must know what is expected of him or her. For example, a job description for a service technician may include but is not limited to the tasks listed in Column A in the table below. To get more task-specific, create questions such as the ones in Column B below. Please note: The sample tasks and asks in the table are just a small sample of the day-to-day responsibilities of service technicians. Other members of the service technician crew may have expertise in inspections; have training to work on specific OEM brands of equipment; and be qualified for hydraulics, engines, control systems, dielectric testing and so forth. The leader of this team often is the fleet manager or plant safety manager.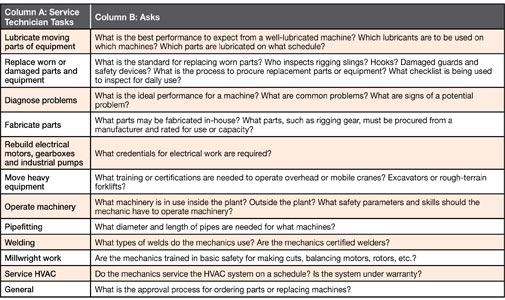 Crane operation is another task-specific example (see below). In the utility industry, that task falls under different job titles and departments, such as T&D, construction or environmental. Crane operation is a subset of these crews' normal responsibilities.

These lists could continue. However, the point is to build a base of knowledge for every task for every job title that is a part of the crew. Have a plan, have a schedule, and set ideal performance as the goal for every person, machine and job.
How to Get Started
Pre-shift work and safety meetings are a wealth of information. Crews discuss work to be done, who is going to do what and safety on the job. Following the tone and structure of these meetings, gather information and formally document the best way to get work done.
Identify eight to 10 high-performers with similar duties.
Schedule time for the high-performers to describe, in conversational detail, every step of their job — day to day and emergency responses.
Have a scribe – don't just take video – to record and clarify descriptions.
Ask high-performers to prioritize work based on safety, frequency and necessity. Ask what work is routine but appears outdated or unnecessary.
Consult regulations and standards for compliance to clarify responsibilities.
Summarize task-specific descriptions based on high-performer input, compliance requirements and parameters for personnel's work.
Determine what training or skill verifications are needed for each set of tasks.
Practice to keep skills sharp and increasing.
Set expectations by rewarding those who excel and holding accountable those who do not.
Repeat this process for every crew type. The process takes about 90 minutes for the internal experts, also known as the high-performers. For the organizer/scribe who summarizes and adds regulatory and organizational detail, it should take about eight hours per group.
With the exception of the astronauts in space, this is not rocket science. Developing high-performing teams or crews using task-based assignments simply takes dedication. Team leaders must be committed to dig as deep as needed to figure out the best way to perform. A huge budget is not required, and every company or organization has its own built-in set of experts. Don't let that knowledge and skill go to waste – tap those with pride in the quality of their work to help you design protocols for proficiency.
About the Author: Debbie Dickinson is CEO of Crane Industry Services (http://centeredonsafety.com), a utility and construction craft training specialist based in Georgia, with NCCER accreditations.