Single Man Folding Basket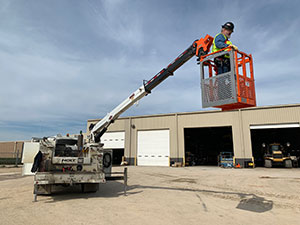 The Diversified Products brand LiftWise has introduced its Single Man Folding Basket for service cranes. It provides fall arrest and fall protection, while helping to eliminate the need for ladders or climbing on equipment. When not in use, the basket's space-saving design folds for easier transport and storage.
Featuring a large open area for increased productivity, the Single Man Folding Basket has a full-sized floor to accommodate workers and materials. The slotted floor allows water to drain, while the upset holes offer skid resistance. An inward-opening gate provides easy entry into the basket, while minimizing space needed.
The basket is attached to the crane head using an adapter that is specifically built for each customer's make and model of crane. When finished, crews can easily fold the Single Man Folding Basket in less than a minute.
The Single Man Folding Basket weighs 230 pounds and has a 350-pound capacity. The steel construction of the basket is designed to meet the rigors of contractors and heavy-duty work environments, including utilities, mining and more. It meets or exceeds industry standards ASME B30.5, ASME B30.22, ASME B30.23 and CSA Z150.
Diversified Products https://lift-wise.com