Safety Eyewear with Anti-Fog Protection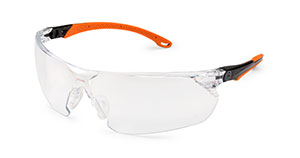 We know that fogging lenses and an overall lack of comfort are the two main reasons why workers remove their eye protection. Brass Knuckle Spectrum (BKFLEX-4040N) helps solve those problems by bringing together flexible comfort and peak anti-fog protection for safety eyewear they'll never want to take off.
Spectrum offers N-FOG anti-fog lens protection, which permanently bonds to the lens and will not wear off or wash off. The anti-fog protection exceeds European EN 166/168, lasting 15 times longer.
For comfort, Spectrum features bowed, super-flex rubber temples that ratchet for custom fit. They touch the wearer only behind the ears, eliminating all pressure points. These ratcheting flexible temples offer a true face-hugging design that inspires compliance. The second-generation PivotEase nosepiece slides up and down and pivots on a hinge for added secure fit. Spectrum brings all this to bear while also retaining its anti-scratch, anti-static and UV protection properties.