Rubber Insulating Gloves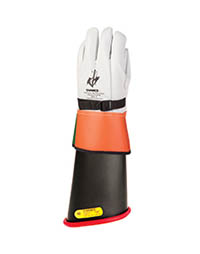 CHANCE Lineman Grade Gloves are available in several ASTM voltage classes and a full range of sizes. Manufactured for your ultimate protection and comfort, CHANCE Lineman Grade Gloves deliver the innovation and dependability you demand.
The gloves are manufactured in an ISO 9001-certified facility by Hubbell Power Systems with an aqueous dipping process to maintain excellent flexibility inherent to natural rubber. The full product offering includes sizes 7 to 12, with half sizes 8H to 10H. For low voltage, Classes 0 and 00, the product line includes 11-inch and 14-inch single-color gloves in red, yellow and black. Black-under-yellow low-voltage gloves also are offered in 14-inch length. For high voltage, Classes 1 to 4, the gloves are available in single-color black, red under black and yellow under black. The cuff offerings for high voltage include straight, bell and contour. In addition to rubber gloves, Hubbell Power Systems offers cowhide and goatskin leather protectors, cotton liners and canvas bags for the proper storage of gloves when not in use.
Hubbell Power Systems https://hubbellcdn.com/catalogfull/2650-GlovesSleeves-EN.pdf