Retractable Horizontal Lifeline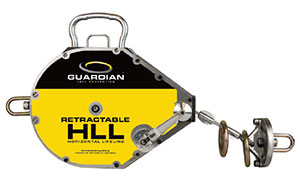 Pure Safety Group has introduced the Guardian Retractable HLL for use in either fall arrest or fall restraint applications.
During a fall, the Retractable HLL will deploy an extending metal energy absorber designed to reduce peak loads to anchorage structures.
The new Retractable HLL also can be used as part of a fall restraint system, which prevents the worker from reaching the leading edge of a fall hazard.
The main component of the HLL is a 60-foot galvanized cable horizontal lifeline, which is extremely durable yet portable and designed for temporary use. When it has been involved in a fall, its energy absorber clearly indicates that to the user.
This product also features a single-direction tensioner handle that prevents accidental releases and folds down to lay flat along the unit, secured by a magnet to prevent work interference.
The HLL's hex shaft can connect to a drill to speed retrieval of the lifeline, and its extremely low deflections create low fall clearance for users. The stainless-steel housing and handles are corrosion resistant, which extends the life of the product.
Quick and easy to install, the HLL can accommodate two workers at the same time, at a weight of 130-310 pounds per worker.