Personal Lifeline System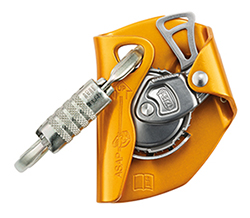 The ASAP Personal Lifeline System is Petzl's solution for protecting workers from at-height falls with the ASAP mobile fall arrester. An easy-to-use and effective PPE, the ASAP moves freely along the rope without manual intervention. In the case of a fall or sudden acceleration, the device locks onto the rope and stops the worker. One advantage of the ASAP is that the locking mechanism won't be affected if the user grabs the rope above the device or the device itself.
The personal fall arrest system contains an ASAP mobile fall arrester, an ASAP'SORBER shock absorber, OXAN connectors and the RAY vertical lifeline. When used in conjunction, the system meets ANSI Z359.15 certification.
Petzl www.petzl.com