Overcoming the Effects of Short-Service Employees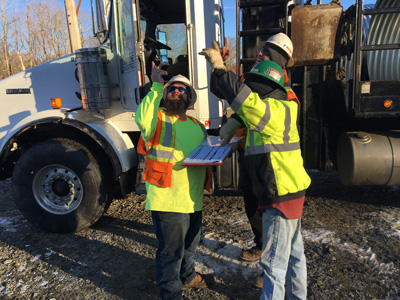 "Are you calling his family, or do you want me to?" the superintendent asked. The project safety manager replied, "I'll call his emergency contact after I find out where the ambulance is heading. Can you call the division manager and give her an update?" The superintendent shook his head as he surveyed the scene and said, "I'll have to keep it short and simple for now, but tomorrow morning we're going to need to be able to explain to everyone how a 19-year-old kid with three months of experience was able to jump into that piece of equipment and put it into an overhead power line."
Although this is a fictional conversation, it may hit close to home for numerous industry workers, especially if your company is adapting to rapid growth by hiring new workers, also known as short-service employees (SSEs).
In its August 2017 issue, Incident Prevention published an article I wrote titled "Overcoming the Effects of Rapid Growth" (see https://incident-prevention.com/blog/overcoming-the-effects-of-rapid-growth), which described how leaders can use operational analysis and powerful communication skills to overcome the effects of rapid company growth. In this article, I'm going to expand upon that topic by shifting the focus to overcoming the effects of rapid growth through SSE onboarding, field mentoring and coaching. That's because if the Crucial Conversations skills I wrote about in the last article made an impact, and you now have hired the additional people you need to accomplish your company's ever-growing mission, then it's likely you are facing a different problem: How do I get these new people up to speed so they meet our quality and safety expectations?
Who is Considered a Short-Service Employee?
Before we go any further, let's define exactly what is meant by "SSEs." These are workers who are new to any combination of the following:
The company and/or industry. SSEs may lack basic competence in how to get their jobs done right and go home unharmed today. In addition, SSEs typically lack an understanding of company culture – its mission, vision and values – which drives decision-making.
The team/crew. SSEs lack the relationships with other workers that lead to fluid tribal dynamics.
The work environment/site. SSEs lack an understanding of site-specific job requirements and hazards. This is especially the case in live facility work.
The position/task. SSEs lack some or possibly all of the knowledge and skill associated with a new position or task. Often this problem is associated with a lateral move, such as a groundman becoming an operator, an operator/driver transitioning to a different piece of equipment/vehicle, or a promotion from worker to supervisor.
To identify SSEs on the job site, one of the most common methods companies use is to provide SSEs with hard hats that are a different color than the hard hats worn by non-SSEs. It's also prudent to list SSEs on each job briefing, along with a concise rundown of their tasks that require either direct or indirect supervision. 
Bringing SSEs Up to Speed
Now that we've discussed who SSEs are and how to identify them, let's return to the problem you may currently be facing: How do you bring SSEs up to speed with your company's quality and safety expectations? There are three primary methods you can use.
Training: This is directly teaching someone a skill or behavior. Training can address any topic about which the teacher has more knowledge than the SSE. Training is direct and involves the who, what, when, where and why of a specific topic.
Mentoring: A mentor is a more experienced employee who guides an SSE, usually by modeling a particular skill or behavior and providing the SSE with retraining on that skill or behavior. The mentor also provides feedback and key information that he has found helpful in achieving success. Mentoring is a combination of indirect and direct modeling and retraining, and it should be adapted to the needs of each individual SSE after some level of initial training.
Coaching: When using the coaching method, a field leader assesses a specific situation that has occurred, determines how and why an SSE approached the situation the way he did – whether good or bad – and leads him through a series of questions that helps the SSE understand what went well, what didn't go well and how to develop his own improvement plan. This should take place with minimal guidance from the leader beyond asking questions and raising concerns about the SSE's approach.
Areas of Potential SSE Issues
There are six work-related areas in which SSEs may face issues that can be addressed by management through training, mentoring, coaching or a combination of methods: culture, tribal dynamics, competency, fitness for duty, hazard management, and situational awareness and stop-work responsibility. Let's take a closer look at each of these areas, as well as recommendations for ways to help SSEs achieve success.   
1. Culture
Culture drives an organization's goals and decision-making. At the company I work for, for instance, our culture is reflected in our mission, vision and values, which are stated below.
Mission: Get the job done right and go home unharmed today.
Vision: Be the preferred workplace by employees and the preferred contractor by clients.
Values: Do what's right for people, the environment and quality.
Recommendations for SSE Success
Explain to SSEs how your company's mission and values drive the choices you make on the job site and lead to your success, thereby moving you closer to your vision.
Set the example by living out your company's values – all the time. This is how new workers will know you mean what you say. 
2. Tribal Dynamics
Tribal dynamics are possessed by team or crew members who think, move and act as one unit. With regard to SSEs, tribal communication and tribal customs are two areas of potential concern. New workers typically will be unfamiliar with crew-specific communication methods and what is meant by certain words, phrases and other language. SSEs also are likely to be unfamiliar with crew-specific operational sequences, methods and procedures.
Recommendations for SSE Success
Seek understanding regarding the SSE's past work and team experiences.
Explain crew-specific methods, including how the mission is accomplished, who does what, when work is done, where work is done and why it is done in a certain manner.
Take time in the morning to create a plan; later that day, review how the plan was executed.
Blend the SSE into operations task by task.
3. Competency
Simply put, competency is knowing how to do the work, and SSEs aren't going to know how to do everything when they begin working for a new company. It's possible that in addition to switching jobs, new workers may have switched industries as well. Or, they may have worked in the electric utility industry for a long while but are accustomed to performing certain tasks differently. Regardless of background, SSEs likely are unfamiliar with their new company's tools, equipment and vehicles.
Recommendations for SSE Success
Train SSEs by directly teaching them from ground zero, and then adjust the content and style to their level of understanding and skill.
Take time to explain generally understood industry and company-specific terms, procedures and operational methods.
Check for understanding by observing how the SSE works. Initially, the SSE may need direct supervision, but over time he can be given more indirect supervision for the skills and behaviors he has mastered.
Provide feedback – let the SSE know the good, bad and ugly of your observations, and provide guidance for continued improvement.
4. Fitness for Duty
Being fit for duty means being able to do the work expected, both physically and mentally. Worksites will vary slightly from company to company, but an SSE must be physically fit to work on a right-of-way, which may consist of uneven, unstable or sloped terrain. New employees also must be able to quickly adapt to working in various weather conditions, including rain, extreme heat and bitter cold.
Recommendations for SSE Success
Take time to acclimate SSEs who aren't accustomed to the industry and/or rights-of-way, gradually working them up to full speed over a five- to seven-day period.
Periodically look them in the eyes to check for fatigue.
Watch them move to check for physical issues, fatigue and other fit-for-duty concerns.
Ask them questions about the work and how they're adjusting.
5. Hazard Management
Hazard management is a topic that should always be discussed when planning a job. Keep in mind, however, that issues related to understanding company culture, tribal dynamics, competency and fitness for duty may hinder an SSE's ability to accurately describe the work to be performed, identify hazards and mitigate risk.
Recommendations for SSE Success
Explain to SSEs the work to be performed, potential hazards and what the company does to mitigate risk, using simple terms in the beginning.
Check for understanding by asking the SSE questions at the tailgate meeting and then watching to see if he properly executes his portion of the work plan.
If the SSE isn't following the plan, take the time to clarify what needs to happen. This type of situation is more likely a misunderstanding of the plan rather than insubordination.
6. Situational Awareness and Stop-Work Responsibility
Because of the newness of his role and working environment, an SSE may not be able to recognize what's happening right in front of him. And if the SSE isn't aware that what's happening isn't consistent with the plan, he is unlikely to stop work, which could lead to injuries and property damage.
Recommendations for SSE Success
Observe what's going on around the SSE, and when something comes up that he should notice, stop the work.
After work is stopped, ask the SSE if he sees anything that concerns him. If he doesn't see the problem, explain what you're seeing and why it concerns you. This will help the SSE better understand what he needs to look for next time.
Listen to the SSE as he asks his own questions and explains what he doesn't understand, and then answer his questions and clarify his understanding.
Graduating From SSE Status
So, how can you tell when an employee should graduate from SSE status to regular employee status? That should happen when he can both perform as well as any other worker in the same role, with the same level of supervision, and when he is accepted as a functional member of the crew to which he is assigned. 
In closing, a company's rapid growth is a great achievement in many ways, but we must be aware of the potential problems it can bring and work hard to keep our employees safe. That means, among other things, working with SSEs, field crews and management to predict potential problems that may arise, and then addressing them through effective training, mentoring and coaching. By doing so, your company can overcome undesirable effects of rapid growth and minimize the impact of SSEs on quality and safety.
About the Author: Jesse Hardy, CSP, CET, CUSP, is vice president of HSE for Supreme Industries, a Harwinton, Conn.-based contractor that specializes in right-of-way clearing, building access roads and drilling.