Novax Rubber Insulating Gloves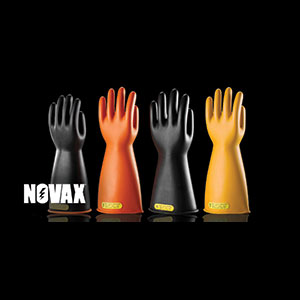 PIP's NOVAX electrical safety products are an industry-leading brand that is trusted by some of the world's largest utility and electrical contractors.
NOVAX rubber insulating gloves are manufactured using an environmentally friendly aqueous dip process, which results in much softer and more flexible gloves that allow for greater dexterity and reduced hand fatigue for users.
The gloves also are dielectrically tested for their insulating performance. Production batches are subject to ISO sampling for a variety of tests, which include physical and further electrical testing. A second round of testing is conducted at PIP's Black Pearl Manufacturing facility prior to delivering NOVAX gloves to customers.
PIP's versatile line of NOVAX rubber insulating gloves features more than 30 styles that come in a variety of lengths and cuff styles, with select electrical class distinctions that range from Class 00 to Class 4.