Load-Trainer Software Upgrade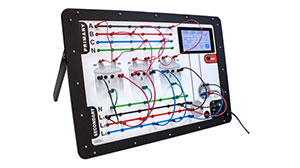 Utility Solutions Inc. launched their three-phase distribution simulator two years ago and recently released a software upgrade. The Load-Trainer II Transformer Simulator can now simulate more system voltages and transformer configurations, and it includes more troubleshooting modes.
The unique tactile interface of the Load-Trainer offers an immersive learning environment for all levels of lineworkers and utility personnel.
In addition to secondary voltage enhancements, a single bushing primary option has been added. With this new option, a trainer can set the H2 primary bushing to be internally connected to the tank ground, just like a real transformer.
The Load-Trainer can be used to both teach and evaluate. New troubleshooting options allow a trainer to hide key pieces of information. This requires a user to demonstrate their proficiency without having the answers displayed on the touch screen. Several utilities and contractors use the Load-Trainer to evaluate lineworker candidates as part of their hiring process.
New domestic units will automatically include the upgrade, while existing customers may purchase an optional software upgrade. These upgrades were followed by a new Spanish language version that launched this summer.