Leather Protector Gloves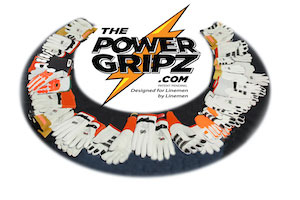 The Power Gripz, designed by linemen for linemen, began as a solution to the many challenges faced by these end users on the job every day. We now offer no-melt, no-drip, no-ignition high- and low-voltage protectors plus a full line of work gloves for any job.
Grade A cow or goat high- and low-voltage leather protectors are available in standard, bell and contour cuff as well as a cut-resistant option. Proprietary grip pads provide unparalleled grip without compromising hand dexterity, performance or safety in all weather conditions. If you are more of a traditionalist, be sure to check out The Power Gripz Bare Series leather protectors.
The Power Gripz also offers a full line of durable work gloves, including leather, mechanic-style, impact- and cut-resistant, water-resistant and flame-resistant.