Industrial Safety Helmet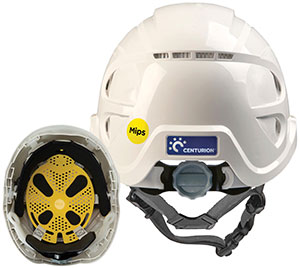 MPS Inc. has introduced Centurion's Nexus Extreme Mips helmet, the world's first industrial safety helmet utilizing the Mips Cradle (multidirectional impact protection system). The Nexus Extreme Mips helmet takes head protection to the next level, exceeding standards by matching a strong, lightweight ABS shell and mountaineering chinstrap to a suspension featuring the Mips low-friction layer, allowing up to 15mm of rotational movement inside the helmet shell on impact. Studies show that in helmets without Mips, the brain moves inside the skull when impacted, leading to potentially severe injury and brain damage. In a Mips-equipped helmet, the cradle moves so that your brain doesn't, providing extreme 360-degree protection.
The Nexus Extreme Mips helmet includes Centurion's Twist-2-Fit ratchet headbands and compatibility with Centurion's range of accessories. It is available in a full spectrum of colors.