High-Visibility FR/AR Apparel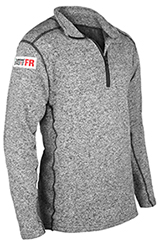 Lakeland Industries Inc. recently unveiled a new line of midweight and high-visibility FR/AR apparel for electrical utility linemen. This apparel enhances the company's current moisture management layering system.
The products feature an exceptional athletic fit with high-performance FR attributes, breathability and moisture-wicking technology, multi-weight fabrics for optimal layering effectiveness, incredible stretch and superior comfort. Following are some of the items included in the line.
The Eclipse: The industry's only 16-cal button-up shirt, this lightweight knit features permanent moisture management and the optimal blend to offer superior protection, performance and comfort.
The Peak: Featuring a modern waffle-cut design with the optimal blend for permanent moisture management, this 8-ounce garment is available as a one-quarter zip or hoodie with built-in neck gaiter.
The Vertex: Featuring an 11-ounce fabric with incredible stretch and permanent moisture management, this garment offers an extremely comfortable fit and modern look.
The Pinnacle: Lakeland's original 12-ounce softshell jacket is now available in hi-vis. At 28 cal/cm2, this jacket features permanent moisture management, water and wind resistance, and an extremely touch abrasion-resistant outer shell.
Lakeland Industries www.lakeland.com