Helmets and Rope Rescue Kit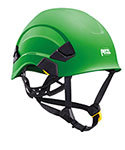 Petzl, manufacturer of professional safety equipment for over 25 years, recently showcased the new STRATO and updated VERTEX line of ANSI-compliant helmets with rated chinstraps, in addition to the JAG RESCUE KIT, at the Safety 2019 Professional Development Conference and Exposition.
The VERTEX helmet is designed with a six-point suspension system that conforms to the shape of the user's head for maximum comfort. This webbing suspension allows for maximum breathability while ensuring separation between the user's head and the external shell in case of impact.
The STRATO is a remarkably lightweight and comfortable helmet due its dual inner foam construction. The liner incorporates an expanded polypropylene and expanded polystyrene foam to reduce weight and achieve superb shock absorption. The helmet comes in vented and unvented versions, as well as in high-visibility colors of yellow and orange for increased visibility.
Both helmet models offer Petzl-exclusive CENTERFIT adjustment for quick sizing that allows the helmet to be perfectly centered on the head. A FLIP&FIT system on the headband can fold into the shell for easy storage and transport. Each helmet can be personally modified with an extensive line of accessories using the new EASYCLIP system, which makes adding or removing accessories, like eye and face shields, simple and intuitive.
With a commitment to providing intuitive and dependable work-at-height equipment, Petzl also has introduced an updated JAG RESCUE KIT, a ready-to-use rope rescue system. The kit makes for efficient pickoffs and lowering of casualties with an integrated 4:1 mechanical advantage. Included in the kit is everything needed to easily transfer the weight of a casualty from the lanyard to the rescue system and lower them to a safe level.
Petzl www.petzl.com