Helmet for Workers at Heights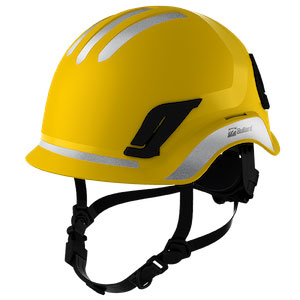 Bullard, the inventor of the hard hat, has introduced the CEN10 Helmet designed for men and women working at heights in industries such as utilities, oil and gas, construction, telecommunications and transportation.
The Bullard CEN10 is a perfect mix of modern design and traditional toughness, featuring sleek, low-profile styles in vented and non-vented models; a self-adjusting FlexGlide suspension system; an impact-resistant shell; an inner foam comfort liner; and an integrated three-point chin strap. The CEN10 meets Bullard's highest standards for industrial toughness, reliability and comfort.
Innovation is at the core of every Bullard product, and the CEN10 sets a new standard with its patented FlexGlide suspension system. FlexGlide lets wearers auto-adjust the fit of their CEN10 Helmet for all-day comfort. Bullard offers the only auto-adjusting suspension on the market, so even the smallest adjustments are possible for workers to achieve the perfect fit.
The CEN10 meets ANSI/ISEA Z89.1 Type I, Class E and G requirements. Vented models of the CEN10 meet ANSI/ISEA Z89.1 Type I, Class C requirements.