FR Duck Quilt-Lined Jacket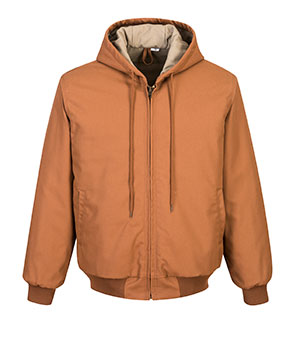 Available January 2021 only from Portwest, the UFR48 Bizflame Flame Resistant Duck Quilt-Lined Jacket is engineered with maximum safety and comfort in mind. Bizflame duck is a high-performance fabric constructed from 100% cotton duck 10 ounce. Designed to wick away water, the wind-resistant properties combined with lightweight insulation ensure the worker is protected from the elements. This jacket provides exceptional flame resistance and is fully compliant to NFPA 2112 and 70E.
The UFR48 has a quilt-lined hood and four pockets that provide ample storage capacity. It also features durable brass zippers and a flame-resistant lining for added protection. The Portwest UFR48 has an ARC4 rating and is 45 cal/cm2.