Electrical Safety Awareness for Telecom Workers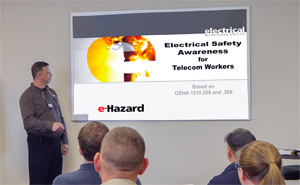 e-Hazard, a leader in electrical safety training, now offers electrical safety training for telecom workers. As the telecom industry continues to rapidly grow, workers are finding themselves near low- and high-voltage lines, which puts them at risk of shock and arc flash injuries. It is critical that they understand the hazards and receive training on how to mitigate those hazards.
The new e-Hazard course, Electrical Safety Awareness for Telecom Workers, stresses the importance of safety regulations and digs into the whys behind each rule. This course covers OSHA telecom regulations and applicable portions of safety rules when working near exposed energized power lines. This class is available only in person as hands-on activities are a key component of the training.
e-Hazard's experienced instructors understand how proper training is an important component of any work safety program. Knowledge is power, and electrical safety training should be a priority for all telecom workers. e-Hazard is here and ready to support. https://e-hazard.com/arc-flash-training/classes/telecom-training/