Auger Tool Selection Video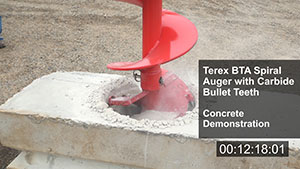 Terex Utilities has released a video demonstrating the importance of selecting the right auger tool for the job conditions. Selection factors include auger style tools or barrel tools, various types of teeth and multiple tool sizes.
In the video, Terex Utilities performs a side-by-side comparison of its TXC Auger and BTA Spiral with carbide bullet teeth drilling into the concrete. The TXC is best for loose, compacted soils; stiff clays; shale; cobbles; and medium rock strata. It's not designed for cutting through concrete or hard rock. In contrast, the BTA Spiral is efficient for drilling into hard rock and concrete. After about 12 minutes, there is a drastic contrast in the amount of work accomplished by the BTA Spiral.
Find the Terex Auger Tooling Comparison video at https://vimeo.com/450234714. This and other videos from Terex Utilities are available at www.terex.com/utilities/en/about/video-gallery.