Voltage and Current Detector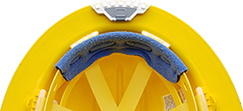 Compass is a lightweight, non-contact high-voltage and current detector. Once attached to the underside brim of any standard hard hat, its advanced notification system will quickly alert the user to the presence of voltage and current on any work site.
Compass detects both overhead and underground high-voltage sources. Once a field is detected, users are notified of their proximity and direction toward the energized source using visual and audible alerts. Unlike other non-contact detectors in the market, Compass has a digital interface that allows users to choose between four different sensitivity settings, effectively giving them the ability to customize the tool to virtually any work environment. Its placement on the hard hat also delivers two important benefits: instant visual notifications of any nearby threat and 360-degree threat detection around the user.
At Safeguard Equipment, safety is a lifestyle. We take it seriously for our customers and their families. To date in 2019, the Compass has saved eight lives. As a result, numerous major utilities have mandated its use among their workforce.
Safeguard Equipment www.safeguardequipment.com