Vehicle-Mounted Spotlight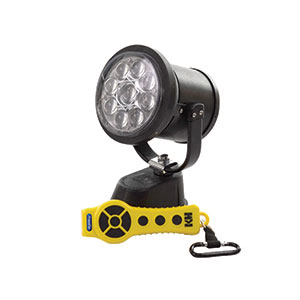 KH Industries has released the new NightRay LR vehicle-mounted spotlight line, which is replacing the NightRay 2 product line.
Though it has the same professional-grade, durable design on the outside, the new NightRay LR has been upgraded internally with state-of-the-art technology. The new product line features a long-range remote controller for extended communication, as well as additional features.
The new NightRay LR controller uses the latest low-energy wireless networking technology to communicate up to 200 feet in the line of sight. This longer range surpasses other vehicle-mounted spotlights on the market and allows for more efficient and effective control by operators.
Additionally, the onboard solid-state accelerometer allows the wireless remote to provide convenient control for users. It's designed with intuitive tilt-and-roll control, allowing operators to direct the light by a tilt of the remote and a twist of the wrist.
Due to its bright light output, the NightRay line has long been used in the utility industry for nighttime inspection, maintenance and repair, as well as in emergency services and construction. The full lamp head rotation creates versatility with 370 degrees of horizontal rotation and a 250-degree vertical tilt. The exclusive open-yoke design and heavy-duty clutch outperform most in extreme weather climates and dominate in ice, snow and saltwater.
KH Industries https://khindustries.com