Utility Manhole Safety Cover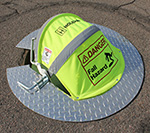 Holehat – which was recently voted New Product of the Year by the American Public Works Association – is a utility manhole safety cover providing structural fall protection and mist suppression.
When a utility line is accessed via an open manhole, a fall hazard is created; Holehat will eliminate this hazard, keeping field personnel and pedestrians safe. Holehat provides a raised visual deterrent/warning and structural fall protection for utility manholes. The retractable manhole safety cover is lightweight, portable and simple to use. Aluminum construction gives the unit high strength, while the three-position retractable cover provides space for maintenance, cleaning and inspection equipment. The bright yellow nylon cover has a large warning and reflective fabric for daytime and nighttime visibility while preventing dangerous pathogen-containing mist. A short demonstration can be viewed at www.holehat.com.
Holehat    www.holehat.com