URD Cap Stand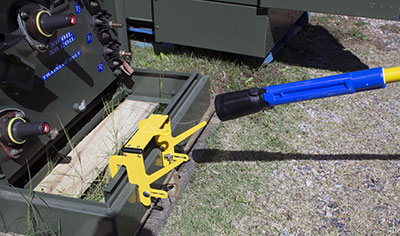 Utility Solutions Inc. has launched the industry's first underground insulated cap holder. The patent-pending URD Cap Stand attaches to the lip of underground padmount transformers and switchgear to securely hold insulated caps.
Insulated caps are designed to protect bushings on underground padmount transformers. They have a grease-covered probe on the inside and need to stay clean and dry. The URD Cap Stand allows a worker to use a shotgun stick to store insulated caps on the front lip of pad gear. The machined stand is made from a high-visibility yellow polymer that cradles the lip of pad gear. Adjustable legs can adapt to any size lip up to 2 inches thick. Smooth plastic arms securely hold insulating caps up to 38 kV.
The URD Cap Stand has two models, a single-cap and a dual-cap holder.