Triple Line Lifter for Subtransmission Applications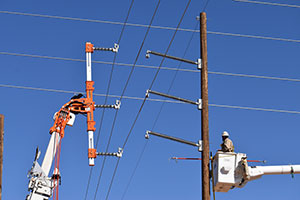 LineWise has introduced its TLL-500A Series 3 Triple Line Lifter for subtransmission applications. Designed to support three phases of energized conductors between 34.5 kV and 72.5 kV, the product features all-new hydraulic articulation, allowing operators to easily rotate phases up to 90 degrees from horizontal to vertical orientation while servicing subtransmission lines. It also includes hydraulic cylinders to extend and retract the outer phases.
The TLL-500A Series 3 has been specifically designed to work with large digger derrick trucks, such as those provided by Terex, Elliott and Altec. It includes three lightweight polymer insulators that are rated for 34.5 kV or 72.5 kV to hold the phases. The product has a maximum load capacity of 475 pounds per phase for a total capacity of 1,425 pounds.
Exclusive to the new Series 3, the phases can be hydraulically rotated from a horizontal to a vertical orientation. The outside phases can also be extended to a maximum overall span of 16 feet or retracted to a minimum overall span of 7 feet 10 inches. This feature allows the three phases to be positioned anywhere from 3 feet 11 inches to 8 feet apart. Wear pads are installed within the assembly to maximize service life. A radio remote allows operators to control all hydraulic functions while working in a bucket.