Temporary Mechanical Jumper Holder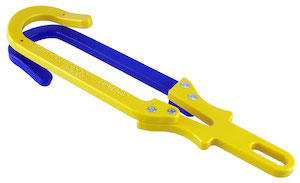 Utility Solutions Inc. has unveiled a new hot-line tool, the Jumper Cuff – Temporary Jumper Holder. The patent-pending Jumper Cuff is a temporary mechanical jumper holder for overhead conductors. It reduces the risk of uncontrolled jumpers and keeps lineworkers outside the minimum approach distance.
The Jumper Cuff is an addition to several temporary mechanical holders already in USI's catalog. Each is made from a heavy-duty polymer specifically designed for rugged outdoor applications.
The unique design of the Jumper Cuff includes opposing hooks, which are flared at the end to allow the holder to slide over a temporary jumper, bare conductors or line hose. The V-notch grabs the outer insulation of a jumper to prevent sliding. Lineworkers often will use a shotgun stick to both attach and remove the Jumper Cuff from a safe distance.