Shotgun Sticks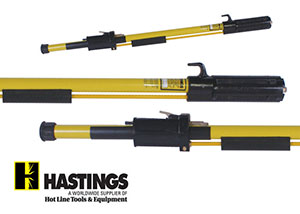 Hastings, a worldwide manufacturer of hot-line tools and equipment, understands that every day has the potential to bring the unexpected to lineworkers. That is why Hastings designs every product – including its Telescopic Shotgun Sticks – with safety in mind.
Hastings' Shotgun Sticks can collapse for storage and then extend to the length needed. These sticks secure with sure-lock buttons at each joint. Several models and lengths are available.
With a passionate commitment to innovation, Hastings' products make the job safer and easier. Shotgun Sticks can be found on page 118 of the Hastings online catalog.