Rigging Fundamentals for Utilities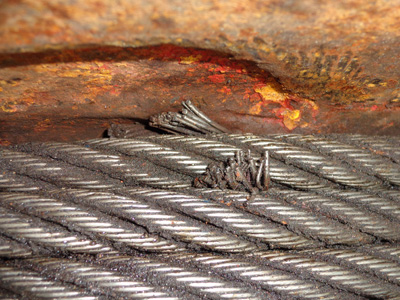 Over the past 20 years I have had the great opportunity to travel the country observing everyday safety practices in the utility industry. During this time it has become clear to me that, more often than not, employees are practicing inadequate rigging techniques that put them and their co-workers at risk on a daily basis. These poor practices are being perpetuated from one generation of riggers to the next. Employees who learned improperly from previous trainers go on to train new employees in the same fashion. It seems that a number of workers have bought into the dangerous idea that unsafe practices are acceptable as long as they don't result in a serious accident. This cycle of carelessness and endangerment is unacceptable and can only be stopped through adequate training and reinforcement of proper rigging techniques. We must revisit the most fundamental principles of rigging safety to build the foundation necessary to change our current culture. In this article I will discuss three of the most basic aspects of rigging – equipment selection, inspection and proper use – and I look forward to continuing the conversation when I present "Basic Rigging Fundamentals" on September 30 at the iP Utility Safety Conference at ICUEE.
Rigging Selection
Where rigging options once ranged from the most basic synthetic slings, wire rope chokers and chain slings, today significantly more diverse options are available, from Kevlar-wrapped synthetic slings to a variety of wire rope chokers and multiple styles of chain slings. As with any industry, as options evolve, so should the selection process. Many companies, however, are not familiar with new designs in rigging and prefer to select from the same materials they appreciate as familiar and sufficient. Sometimes there is a good case for the tried-and-true approach, but in an industry that is quickly progressing – like the utility industry – there is almost always a more efficient alternative waiting to be discovered.
Let me give you an example. At a steel fabrication facility that produces different lengths of pipe, workers were using multiple multi-leg chain slings for a process with varied lengths of material. Although this approach worked for them, they discovered a better solution was to attach chain shorteners to one multi-leg chain sling so the length of each leg could be varied. Once the process was tested, employees were able to mark specific links that allowed proper rigging angles when lifting the different lengths of pipe. So rather than having to make multiple equipment changes throughout the day, employees were able to utilize a single chain sling adapted with chain shorteners to provide length variance between each leg as needed.
Another example is using a synthetic sling wrapped with a Kevlar blended material when handling pieces of rebar or other material that could cause excess wear. While Kevlar doesn't increase the immediate strength of the sling, it does protect the sling from becoming prematurely worn, ultimately preserving the strength of the original design and increasing quality and life expectancy.
I will discuss these and other options during my presentation at the iP Utility Safety Conference at ICUEE. However, if you have concerns about the sufficiency of your current rigging, I strongly encourage you to request a consultation from a reputable rigging shop as soon as possible. I speak from experience when I say that leaning on experts for information will help keep you and your co-workers safe, as well as provide an increase in production due to gained efficiencies.
Conducting Inspections
Rigging inspections are fairly straightforward as they pertain to the majority of the rigging in our shops and on our job sites. But despite the straightforward nature of the rigging inspection, it continues to be one of the most overlooked daily inspections employees should perform. Since damage to rigging is not always obvious, it is imperative to perform inspections at the beginning of each shift and prior to each use. This can seem excessive and laborious to employees making multiple lifts each day, but when it comes to the possibility of saving a life, all preventive efforts are invaluable.
In my experience, eye-to-eye synthetic slings have often been the catalyst for catastrophic rigging failures, many of which resulted from insufficient inspections. When teaching how to properly inspect synthetic slings, it is important to realize that the inside of the eye on an eye-to-eye sling typically endures the most wear. Even so, this crucial component is repeatedly overlooked during eye-to-eye synthetic sling inspections.
Inspection is a proactive measure designed to prevent accidents from happening. From a safety and training perspective, the hope is to ensure learning through preventive measures rather than settle for reactive learning in the fallout of incidents that were preventable. The majority of rigging failure incidents I have investigated over the years can be traced back to insufficient rigging selection and substandard inspections. When workers fail to perform rigging inspections properly – or at all – the consequences can be deadly.
A Complex Venture
Training on the use of rigging can be a rather complex venture due to the multiple types of rigging and rigging systems available for use today. However, we can hone in on a few standard safety practices when using rigging. Some best practices include padding slings appropriately and maintaining awareness of sling angles and their effects when calculating loading. When slings are placed into positions that require extra protection, the padding must be sufficient to handle wear and large enough to ensure quality protection throughout the lift. I often see loads being lifted with padding that is structurally substandard, offering no real protection and only serving to create a false sense of security. Often the padding is too small to provide adequate protection for the rigging. It is imperative that riggers have sufficient materials to provide enough protection when padding sharp edges. Remember the phrase "perception is not protection," meaning that just because something looks good doesn't mean it will protect you or your co-workers.
Accurately noting sling angles when calculating the sling load is the most crucial task – and yet often the most overlooked task – when determining capacities of rigging equipment. During training I often use a load with predetermined lifting points to simulate different angles. With the help of scales and rigging equipment, I am able to demonstrate how much tension the slings are actually exposed to. This display has always produced the greatest number of aha moments in all of my classes. While workers have seen and heard about the results of varying sling angles, such as increased sling loading due to sling angles or material failure resulting from increased compressive forces, many never truly realize just how much of a determining effect angles have on slings.
Experience has taught me time and time again that simple safety factors possess the power to save lives. A student in a recent rigging class told me that he and his co-workers knew never to exceed 12,500 pounds on a 5-ton overhead crane. Take a moment to digest that. You can imagine my horror at hearing that statement. This is one example of an improper guideline that was passed down from one worker to another as an acceptable practice. As I have witnessed at that plant and many others, there is an ingrained school of thought that unsafe practices are acceptable until an accident proves otherwise. The mindset of that gentleman in my class was simply the result of the general attitude that has been adopted by some riggers and other industry professionals all across the country. Please do not jeopardize your well-being or the well-being of your co-workers. A perceived increase in productivity is simply not worth an injury or a loss of life.
About the Author: Brian S. Hope, ASP, CSP, CUSA, is the vice president of Crane U (www.craneu.com), a national consulting company that specializes in crane and rigging certification and qualification training. He can be reached at brian@craneu.com. 
Editor's Note: If you'd like more information about rigging fundamentals for utility workers, Brian S. Hope will present "Basic Rigging Fundamentals" on September 30 at the iP Utility Safety Conference & Expo in Louisville, Ky.