Respirator Cleaning Kit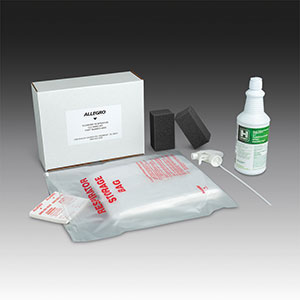 Allegro Industries has introduced their new Allegro Economy Respirator Cleaning Kit with a convenient cleaning and storage solution for full-mask and half-mask respirators. Not only is this a low-cost solution, but the kit also meets OSHA recommendations (29 CFR 1910.134 Appendix B) that will not deteriorate rubber components on respirators.
The Allegro Economy Respirator Cleaning Kit includes a water-soluble liquid detergent that comes in a 32-ounce, ready-to-use, convenient and resealable bottle with sprayer, two scrubbing sponges, and 100 individual sterile storage bags and seals.
Allegro Industries offers the most complete line of cleaning, storage and testing accessories available for respirator users, according to the company. Among the products included in this line are wipes, cleaning kits, wall cases, storage bags and respirator fit test kits.