Reel Management System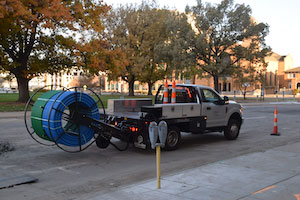 Industry-leading utility hydraulics manufacturer HydraBed has introduced a new version of its popular Reel Lift lifting unit, the ReelLift Reel Management System, a full-capability solution that performs all the major functions of reel and cable handling. Enabling utility workers and contractors to reduce their reel and cable handling time by up to 50%, the new ReelLift system combines the functions of reel pickup and transport with semi-autonomous hydraulic cable payout, retrieval and figure-eight deployment in one compact, truck-bed-based package.
Featuring an industry-best 5,000-pound reel capacity, the ReelLift system eliminates the need for a dedicated reel trailer while enabling a cable crew to transport and position reels of telecom wire, fiber-optic cable and other reel-based connective media, and then precisely pay out, retrieve and even create figure-eight patterns via its variable-speed, easy-to-use controls. Thoughtful features include a contractor-tested, quick-release axle security latch, a built-in 20,000-pound-rated tow hitch and an unmatched five-year structural warranty.
The ReelLift system is available through its national dealer network as a turnkey solution customised to fit most popular chassis cab truck models, or it can be factory-installed at HydraBed's Sabetha, Kansas, location.