Real-Time Worker Heat Monitoring System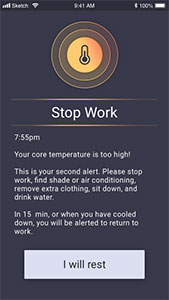 Kenzen, the smart PPE innovator focused on physiological monitoring and the prevention of heat injury and death among workers, has launched a real-time worker heat monitoring system. The cloud-based software-as-a-service system includes a wearable device worn by a worker on their arm, which alerts both the worker and their supervisor when core body temperature is too high. Real-time alerts allow for immediate intervention and worker safety from heat injuries.
The wearable device monitors multiple physiological and environmental metrics, including heart rate, activity, skin and ambient temperatures. Together, this data allows for the real-time prediction of core body temperature, providing alerts to workers and supervisors when temperatures approach unsafe levels.
Kenzen's multi-level alerts are sent to workers via device vibration or iOS or Android app notification, and to supervisors via a web dashboard alert signaling that the worker should take a break and allow their temperature to return to a safe level. Alerts are accompanied by actionable recommendations, such as advising the worker to take a break, find shade, drink water, or remove any excess clothing and equipment to decrease body heat. A second "back to work" alert then indicates when the worker's core body temperature has returned to a safe level.
Kenzen www.kenzen.com