Protective Ground Mat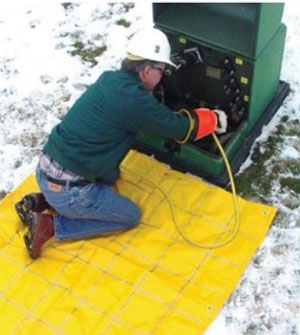 As a worldwide manufacturer of hot-line tools and equipment, Hastings understands that every day has the potential to bring the unexpected to lineworkers. That is why Hastings designs every product, including our protective Ground Mat, with safety in mind.
Hastings' portable protective Ground Mat provides a method for workers to establish an equal potential zone for multiple grounding applications. The Ground Mat is manufactured of vinyl polyester fabric with high ampacity and tinned-copper braid sewn into a grid pattern. The braided copper on the grid connects to a 6-inch termination stud on the corner of the mat. The Ground Mat is then bonded to the equipment being worked on by using a safe and reliable ground cable assembly.
Hastings' Ground Mat is available in three sizes and two different types of material, standard yellow and black anti-skid. Multiple mats can be bonded together. These mats also are reversible, easy to store, and easy to clean with standard hose pressure or a power washer.