Power URD Cable Stripper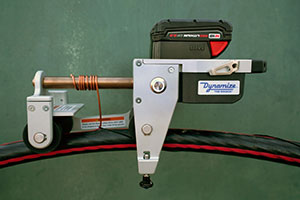 Invented by a lineman and powered by a Milwaukee M18 battery, the Ripjack removes the outer jacket from underground primary cable.
It strips all stranded concentric URD cable, sizes #1 to 1500 MCM, with no adjustments needed between sizes. An ergonomic solution for cable jacket removal, the Ripjack is remote-controlled for ease of use in confined spaces, padmounts and risers.
The Ripjack reduces injury risks to lineworkers from shoulder/elbow strains, cuts and possible electrical contacts. Creating no damage to cable neutrals, semi-con or insulation, the Ripjack makes it easy for you to build quality, lasting splices and terminations. Your company will benefit from decreased health-care costs, fewer preventable outages and happier customers with better system reliability.
As more and more lines go underground, the patented Ripjack has won rave reviews from both lineworkers and management, including the prestigious ShowStopper award for best product innovation at NECA. Sign up for a free field trial today at https://theripjack.com/demo/.
Dynamize LLC https://theripjack.com/demo/