Pole Stump Removal System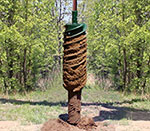 The Pole Hog from Precise Machine Works offers a solution to remove pole stumps in one piece by simultaneously spinning and pulling. There is no need for backhoes, rods, jacks or pullers. The Pole Hog relieves stress on boom trucks, does not widen the original hole, and works in mud and rock.
Made of steel, the Pole Hog can remove a pole up to 13 inches. The Pole Hog itself is 48 inches long, 18 inches OD, 13.3 inches ID and weighs 450 pounds. It comes with eight 8-¾-inch lag screws, as well as a kelly bar attachment to fit the boom truck.
Precise Machine Works https://precisemachineworks.com