October 2015 Management Toolbox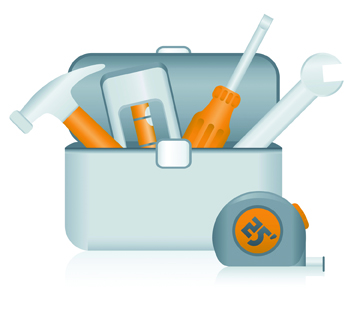 4 Time Management Mistakes You Might Be Making
You're busy. Your employees and colleagues are busy. Just about all of working Americans are incredibly busy, with perhaps more demands on their time now than ever before. And while some of us are great at handling all that life throws our way, others struggle with how to best manage their time at work. Are you making any of the following mistakes? If you are, not to worry – once you've realized what you could be doing better, you can begin to move toward more refined time management skills.
1. Failing to compose a to-do list. Even if you have a mind like a steel trap, things can periodically slip through the cracks, especially when you're handling a heavy workload. Why risk missing an important deadline when you can take a mere 10 to 15 minutes each day to create a to-do list? Even better, consider putting together two to-do lists: one that itemizes everything you have to do in the next month or two, and a second that is updated daily with the tasks to be accomplished that day. The daily to-do list should prioritize tasks in the order they need to be completed.
2. Allowing yourself to be routinely distracted. Everyone must deal with distractions, whether it's a co-worker who unexpectedly stops by your office to ask for help, a vendor calling about an urgent problem or simply environmental noise that makes it difficult to focus. Distractions like these can eventually add up to hours of time taken away from tasks you're obligated to complete. So while you certainly shouldn't ignore the needs of those who rely on you, you must carve out distraction-free time. Log out of your email. Silence your cellphone and turn off the ringer on your office phone. Shut your door. Work when no one else is around. There are even apps you can download to temporarily block websites so you can ensure you're not distracted by them.
3. Underestimating how long a task will take to complete. It's not always easy to assess the amount of time required to do something, especially if you've never done it before. But how many times have you said, "Oh, that should only take about an hour or two," and then it's four hours later and you're still not close to being finished? When you're working to better manage your time and prioritize tasks, always estimate how long you think each task is going to take, and then increase that estimate to account for errors and other unforeseen circumstances.
4. Scheduling tasks when you'll have a more difficult time performing them. When does your brain work best – at 7 in the morning or 4 in the afternoon? If you can think, speak, write and act most clearly in the morning, this is the ideal time to work on more difficult projects. Then, when your energy begins to wane in the afternoon, you can tackle less demanding tasks. By approaching your responsibilities this way, you will make better overall use of your time; trying to write a report at 8:30 a.m. when you're a night owl will likely take longer, and the report could even be of lesser quality than if you wrote it later in the day.
*****
The Power of the Handwritten Letter
Do you remember the last time you received a handwritten letter? After you pulled it out of the mailbox, did you feel a twinge of excitement when you realized it wasn't a bill or a piece of junk mail, but rather a personal note from someone you know? As the use of email has skyrocketed over the past couple decades, it has become less and less common to both write handwritten letters and receive them. But that's why they're even more meaningful today, which is a great reason to incorporate the practice of writing letters into your professional life.
Beyond being something of a modern-day anomaly, a handwritten note – though small – can make a huge impact on those who work with and for you. For starters, you're demonstrating that you've made a sincere investment of time and effort. Unlike sending an email, penning a letter means you had to purchase stationery, carefully decide what you were going to write, put the letter in an envelope, address it and buy a stamp before mailing it. Most people recognize all that goes into sending a personal note, and it makes them feel good to know someone cared enough to do so. In a professional environment, this helps to build stronger, more trusting relationships.
Although many letters are written in the form of thank-you notes, they can be sent for almost any reason at all. Send a card with a personal note to congratulate an employee on the birth of her child. Write a quick letter to a worker to commend him for earning a new certification. Send a note to a colleague whom you know is going through a difficult time. And don't forget that sometimes the best messages we receive are the ones sent for no reason except to remind us that we're doing a great job and are appreciated. The bottom line when sending a handwritten note is to establish a personal connection that reminds people they are cared about and valued.
Not everyone is confident in their writing skills, but the beauty of this kind of writing is that you can keep it short, sweet and to the point. It's great to keep stationery on hand for the when the mood strikes you; however, if you're having trouble putting pen to paper, sometimes buying a card specifically for the person you're writing to can be a source of inspiration. The Internet is also a helpful resource if you're having writer's block. But remember that when all is said and done, it's the fact that you made the effort that the letter's recipient will remember. A kind note from a supervisor or colleague is sure to make anyone's day.
---
Kate Wade
Kate Wade is the managing editor of Utility Fleet Professional and Incident Prevention magazines. She has been employed by Utility Business Media Inc. since 2008.
---