Innovative Lineworker Tools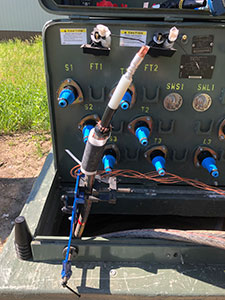 Linehand's Choice is a company founded by a group of linemen who saw a growing need to implement innovation in the primary underground industry. With the increasing amount of underground being installed on a day-to-day basis and the added strain on lineworkers' bodies, two innovative tool ideas evolved.
These tools address three essential components in terminating underground primary cable: safety, ergonomics and efficiency.
The first tool is called the Cable Hand Tool, which works on primary cable from #2-1000 mcm in any area needed to terminate cable. The second tool is the Cable Hand Vault Tool. It mounts to bracketing in the vault, which will adjust to make the Cable Hand Tool hold wire in the most ergonomic, safe and efficient positioning possible to complete the task with one employee rather than two. Visit our website for more detailed information on the tools or to view the full ergonomic study performed on them.