Frontline Fundamentals: HP Principle Two: Your Crystal Ball
I have fond memories of G.I. Joe. When I was a kid, I played with the toys and watched the cartoons. I sang along with the theme song and was ready to say "knowing is half the battle" in unison with the hero at the end of each episode, after Cobra had been defeated. The Joes were smart to realize that knowledge is power, and knowledge is especially powerful when it comes to safety, and more specifically, incident prevention.
Imagine for a moment what it would be like to know the future – think about how powerful it could make you. How much money could you make if you could predict winning lottery numbers or the winner of a sporting event? Think about all the undesirable outcomes you could avoid – such as getting injured – if you knew the exact date and time they were going to happen.
It's unlikely you will ever know exactly what the future holds, but you can use human performance (HP) to predict, manage and prevent error-likely situations that could have led to incidents. In other words, the second principle of HP – that error-likely situations are predictable, manageable and preventable – gives you a crystal ball.
Let's define what is meant by the term "error-likely situations." These situations occur when error precursors are present and negatively impact decision-making. Error precursors, which are grouped into four categories – task, work, individual and nature – include such things as imprecise communication, departures from routine, distractions, inaccurate risk perception, overconfidence and time pressure (see more in the TWIN Model of Error Precursors sidebar).
In a recent Frontline class, a lineman shared a situation in which, with good intentions, he risked being attacked by a bear and crushed by a tree because he felt compelled to get the lights back on. This is an example of how error precursors, such as time pressure and a can-do attitude for critical tasks, can negatively impact decision-making and get you hurt.
Then there is my ultimate pet peeve and perhaps the most preventable injury that exists – getting crushed by outriggers. They usually crush feet, but I've heard of them crushing hands. I even know of a person who set an outrigger on his own foot. Every time someone is crushed by an outrigger, the situation likely involves imprecise communication, inaccurate risk perception and complacency/overconfidence.
Here's a final example: It's not hard to figure out what might happen if I'm faced with confusing displays or controls, such as a gearshift in my rental car that is shaped like a knob and positioned close to where the radio volume knob is on my vehicle, especially if I am acting on habit patterns and making assumptions.
My key point is that we cannot and never will be able to fully eliminate error precursors. That's why it is critically important to identify them and use HP tools that give us time and focus our attention so we can make good decisions and maintain positive control.
We also can use HP tools – such as observations and key performance indicators – to proactively identify and mitigate at-risk behaviors and unsafe conditions. If I asked you right now to name the person in your group who will next be injured, or what type of injury your group is likely to have, you probably could answer quickly.
Again, knowledge is power. We gain knowledge through observations and performance monitoring. By then coupling that knowledge with accurate identification and mitigation of hazards and risks, including error precursors, we give ourselves the power to prevent incidents. Indeed, you have a crystal ball.
About the Author: David McPeak, CUSP, CET, CHST, CSP, CSSM, is the director of professional development for Utility Business Media's Incident Prevention Institute (www.ip-institute.com). His experience includes operations management, safety and training roles. McPeak holds multiple safety and training certifications and has received numerous awards. He also has served as chairman of Task Team One of the OSHA ET&D Partnership, as a member of Incident Prevention's editorial advisory board and as a member of the North Carolina Apprenticeship Council. Reach him at david@utilitybusinessmedia.com.
About Frontline: The Frontline program provides interactive, engaging classroom training that empowers employees to become better utility safety leaders. Subject matter experts facilitate the learning process and cover four areas – safety leadership, incident prevention, human performance, and standards and operations – critical to safety success. Visit www.frontlineutilityleader.com for more information.
*****
TWIN Model of Error Precursors
Error precursors are unfavorable conditions that negatively impact decision-making. They can be categorized in the TWIN model below.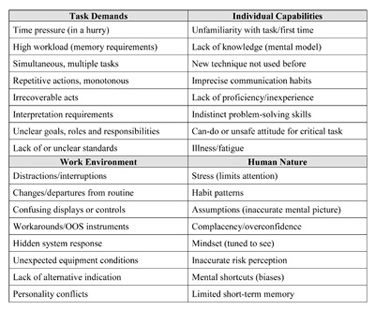 *****
Webinar on HP Principle Two: Your Crystal Ball
May 16 at 3 p.m. Eastern
Visit www.frontlineutilityleader.com for more information.
Leadership Development, Frontline Fundamentals
---
David McPeak, CUSP, CIT, CHST, CSP, CSSM
About the Author: David McPeak, CUSP, CIT, CHST, CSP, CSSM, is the Director of Education for Utility Business Media's Incident Prevention Institute (ip-institute.com) and the author of "Frontline Leadership – The Hurdle" and "Frontline Incident Prevention – The Hurdle". He has extensive experience and expertise in leadership, human performance, safety and operations. McPeak is passionate about personal and professional development and believes that intrapersonal and interpersonal skills are key to success. He also is an advanced certified practitioner in DISC, emotional intelligence, the Hartman Value Profile, learning styles and motivators. Reach him at david@utilitybusinessmedia.com.
---