Frontline Fundamentals: Leadership Styles and the Art of Flexecution
This series of articles began with "Developing a Complete Definition of Leadership" (see https://incident-prevention.com/blog/frontline-fundamentals-developing-a-complete-definition), in which I defined leadership as influence and discussed how the measure of a leader is the performance of their team. We also talked about the fact that many leaders in our industry came up through the ranks in a culture of autocratic leadership and that many people in leadership positions never received any leadership training. That has led to leadership being incompletely defined as telling people what to do and threatening them with consequences if they don't comply.
That bears repeating: It is an incomplete definition of leadership – not an incorrect definition.
Flexecution
Successful leaders understand a term a friend of mine taught me: "flexecution." Essentially, it is the act of adapting to the methods used to achieve a goal without sacrificing standards. In terms of leadership, flexecuting means using a variety of leadership styles based on different people and circumstances.
In order to effectively utilize different leadership styles, you must understand that:
Everyone is equal but no two people are the same.
Your leadership should never be about you unless you are looking for someone to blame.
There is no correct leadership style.
You typically will use a combination of leadership styles.
Before we discuss any specific leadership styles, I want to clarify the goal of this article. It is not intended to be a complete and comprehensive list of leadership styles. You don't need to memorize anything. The goal is for you to be able to think critically about what actions would be the most appropriate for a given person or group of people in a given set of circumstances, and then act intentionally based on that analysis. It might even make sense to call them leadership strategies rather than styles.
With that said, listed in the table below are some common strategies you should consider incorporating into your leadership. Note that these strategies make recommendations based on circumstances. You also must consider your team and what each person needs, wants and deserves. That requires you to know your team.
Leadership Styles/Strategies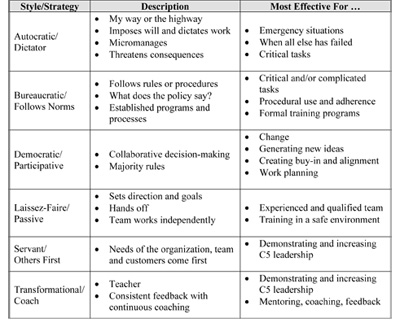 In order to reinforce the need for adaptability in leadership, think about each of the following questions:
During a disaster or emergency response, why do incident responders first establish an incident commander before doing anything else?
Have you ever worked for someone who micromanaged you but didn't know as much about your job as you did? If so, how were your attitude and performance?
What will likely happen on a highly experienced and motivated team if the leader takes a passive approach?
Should someone using a purely autocratic leadership style lead a pre-job briefing? Why or why not?
Summary
I want to stress that there is no correct leadership style or exact matrix that will tell you precisely what to do and say with any given person in any given situation. The critical point that needs to be understood is that you are strategically and intentionally applying different leadership styles based on your knowledge of your team, the task being performed and the environment. Have the courage to try different styles of leadership to see what works best for your team and maximizes their performance – which in turn maximizes your leadership. 
About the Author: David McPeak, CUSP, CET, CHST, CSP, CSSM, is the director of professional development for Utility Business Media's Incident Prevention Institute (https://ip-institute.com). His experience includes operations management, safety and training roles. McPeak holds multiple safety and training certifications and has received numerous awards. He also has served as chairman of Task Team One of the OSHA ET&D Partnership, as a member of Incident Prevention's editorial advisory board and as a member of the North Carolina Apprenticeship Council. Reach him at david@utilitybusinessmedia.com.
About Frontline: The Frontline program provides interactive, engaging classroom training that empowers employees to become better utility safety leaders. Subject matter experts facilitate the learning process and cover three areas – safety leadership, incident prevention and human performance – critical to safety success. Visit https://frontlineutilityleader.com for more information.
*****
Webinar on Leadership Styles and the Art of Flexecution
November 13 at 3 p.m. Eastern
Visit https://frontlineutilityleader.com for more information.
---
David McPeak, CUSP, CIT, CHST, CSP, CSSM
About the Author: David McPeak, CUSP, CIT, CHST, CSP, CSSM, is the Director of Education for Utility Business Media's Incident Prevention Institute (ip-institute.com) and the author of "Frontline Leadership – The Hurdle" and "Frontline Incident Prevention – The Hurdle". He has extensive experience and expertise in leadership, human performance, safety and operations. McPeak is passionate about personal and professional development and believes that intrapersonal and interpersonal skills are key to success. He also is an advanced certified practitioner in DISC, emotional intelligence, the Hartman Value Profile, learning styles and motivators. Reach him at david@utilitybusinessmedia.com.
---