Frontline Fundamentals: Developing a Complete Definition of Leadership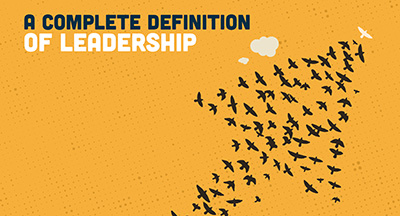 Our industry is under a lot of pressure. There is the ever-increasing pressure to keep the lights on and rates down by performing work efficiently and safely. To do more with less. Adding to the pressure is an aging workforce, high levels of turnover, and changes in workforce demographics – such as generational differences – that make it difficult to recruit and retain qualified employees.
What that means is leadership is more challenging and more important than ever. As the industry evolves and changes, so must its leaders. For that reason, leadership will be the focus of our 2019 Frontline Fundamentals columns and webinars. I highly encourage you to read the articles; send us your questions, concerns and experiences; and actively participate in the free webinars. Most importantly, take these opportunities to evaluate and improve yourself as a leader. Remember, leadership is a skill that can be improved.
In the remainder of this article, we are going to discuss two things that keep leaders in our industry from reaching their full potential: fear and an incomplete definition of leadership. We also will define leadership, how it is measured and outcomes produced by successful leaders. Lastly, we will address critical characteristics that effective leaders possess.
Fear and an Incomplete Definition of Leadership
In a high-risk work environment with dominant personalities and macho attitudes, it seems counterintuitive and maybe even a little humorous to talk about fear, but we need to. The fear of failure, fear of hurting feelings, fear of change, fear of delegation, fear of difficult conversations and fear of developing relationships cripple many of our frontline leaders.
A number of these fears derive from an incomplete definition of leadership. A lot of our frontline leaders have been promoted through the ranks yet never received leadership training. On top of that, many of them came through the ranks in a culture where leadership was defined as a strong-willed person – who was the unquestioned authority on the work being performed – telling people what to do. Leaders had a my-way-or-the-highway approach that often involved yelling and cussing. They worked from the neck up and their crews worked from the neck down.
It is critically important to note this autocratic or dictatorial style of leadership is not necessarily wrong or bad – it's just not all there is. Leaders need to have the courage to get to know their teams and use different leadership styles based on people and circumstances.
Leadership Defined and Measured
Leadership is influence, and the measure of your leadership is the performance of your team. Leadership also can be defined as communicating a common vision and getting consensus along with doing whatever you can to help others be their best. Successful leaders will achieve these outcomes:
Influence: How much other people want to follow you, give you discretionary effort and do whatever they can to help you achieve your goals.
Alignment: The team has the same mission, vision and values, and is working toward achieving common goals.
Responsibility: Everyone is accountable for successes and failures. The team wins and the leader loses.
Performance: P = B + R (Performance = Behavior + Results). Remember this. You get what you tolerate.
Culture: A system of shared ideas, thoughts, beliefs, expectations and values that drive behavior. Culture can be thought of as what leads when no one is watching.
Expectations of excellence: Uncompromising standards with no deviation in the areas of quality, safety, productivity, interactions and teamwork.
C5 Leadership
C5 Leadership uses five words that start with "C" to explain behaviors and characteristics of effective leaders. These five words are not intended to be a comprehensive list of leadership traits but rather to be reflective of who a leader should be and what they should do.
Competence: How well you can do a job based on your technical skills and experience. You are the subject matter expert when it comes to you and your team.
Commitment: How passionate you are about achievement of individual and team goals and how much you work to develop yourself and your team.
Compassion: How much you care about the team and each member, want to help your team and prevent harm.
Courage: How often you act, do the right thing and try different approaches.
Credibility: How trustworthy you are; the level to which you give, earn and maintain trust. Credibility, or trust, is the foundation of leadership.
Summary
There is no perfect definition of leadership or roadmap to success, but it is mostly about influence, so think about how you can gain influence with your team. Also, leadership is not easy, and being a successful leader takes work. It is a skill that can be improved, and you improve by trying new approaches without compromising your expectations of excellence and seeing what works and what does not. Benchmarking works great for this. Think about good leaders you have had in the past in your personal and professional lives. What made them good leaders in your mind? The answer to that question will give you a specific list of things to work on.
It also is important to understand you are a leader who has been entrusted with leadership. Your organization trusts you by giving you your position and expecting you to accomplish certain outcomes. Your team and their loved ones literally trust you with their lives and careers. The public and your customers trust you. You position will only take you so far. The influence you gain is what will set you apart.
In reading the articles in this series, focus on you and your team. Do you have influence (the team wants to), or do you mostly give orders (the team has to)? Think about tangible ways you can produce the outcomes mentioned above and demonstrate C5 Leadership to your team. Then attend the webinar March 20 prepared to ask questions and share your experiences.
About the Author: David McPeak, CUSP, CET, CHST, CSP, CSSM, is the director of professional development for Utility Business Media's Incident Prevention Institute (www.ip-institute.com). His experience includes operations management, safety and training roles. McPeak holds multiple safety and training certifications and has received numerous awards. He also has served as chairman of Task Team One of the OSHA ET&D Partnership, as a member of Incident Prevention's editorial advisory board and as a member of the North Carolina Apprenticeship Council. Reach him at david@utilitybusinessmedia.com.
About Frontline: The Frontline program provides interactive, engaging classroom training that empowers employees to become better utility safety leaders. Subject matter experts facilitate the learning process and cover four areas – safety leadership, incident prevention, human performance, and standards and operations – critical to safety success. Visit www.frontlineutilityleader.com for more information.
*****
Webinar on Developing a Complete Definition of Leadership
March 20 at 3 p.m. Eastern
Visit www.frontlineutilityleader.com for more information.
---
David McPeak, CUSP, CIT, CHST, CSP, CSSM
About the Author: David McPeak, CUSP, CIT, CHST, CSP, CSSM, is the Director of Education for Utility Business Media's Incident Prevention Institute (ip-institute.com) and the author of "Frontline Leadership – The Hurdle" and "Frontline Incident Prevention – The Hurdle". He has extensive experience and expertise in leadership, human performance, safety and operations. McPeak is passionate about personal and professional development and believes that intrapersonal and interpersonal skills are key to success. He also is an advanced certified practitioner in DISC, emotional intelligence, the Hartman Value Profile, learning styles and motivators. Reach him at david@utilitybusinessmedia.com.
---