Electrical Fish Tapes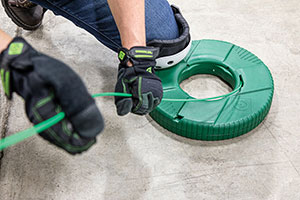 Emerson has revealed a new line of electrician fish tapes that make fishing two times faster compared to a traditional electrical fish tape. Faster fishing is possible with REEL-X because the anti-bind case reduces friction. Additionally, REEL-X can be set on the ground or held between the legs to free up both hands for pulling or feeding the tape.
REEL-X was engineered to eliminate the biggest problems present in traditional fish tape designs: fighting binds and jams in the tape, which slows down an already tiring process. Customers often reported strain in their shoulders and wrists while fishing. Greenlee's patent-pending design features a free-spinning interior reel that helps eliminate binding, requiring less physical force to feed and pull the tape, which reduces fatigue. The new design lacks a handle, so the user is encouraged to hold the case close to their body. This helps minimize discomfort while assisting with decreasing physical strain by promoting neutral arm and wrist posture.
The case is designed to be opened easily to remove dirt and quickly swap out reel cartridges. A storage lock was added to the case to keep the tape in place when not in use.
REEL-X fish tapes are now available in fiberglass in 50-foot and 100-foot lengths.
Emerson www.greenlee.com/us/en/product-overview-reel-x-fish-tapes