Chris Grajek Honored at 2017 USOLN Safety Award Ceremony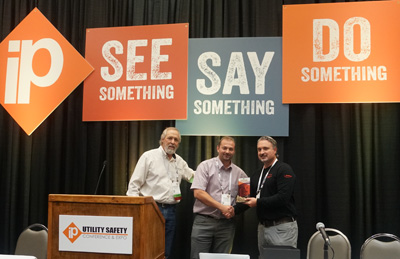 On October 2, the Utility Safety & Ops Leadership Network (www.usoln.org) held its annual award ceremony at the iP Utility Safety Conference & Expo in Louisville, Ky. During the event, USOLN board members presented the John McRae Safety Leadership Award to Chris Grajek, CRSP, CUSP. Grajek currently serves as safety and work methods director for Allteck Line Contractors based in Burnaby, British Columbia.
The John McRae Safety Leadership Award was created to honor McRae, a fourth-generation lineman who enjoyed a 42-year career before passing away July 27, 2010. He was active in the military reserves for nearly 30 years and instrumental in establishing the Massachusetts Municipal Lineman's Association. McRae, a member of San Diego's IBEW Local 465, spoke across the country about electrical training and went on to assist in the launch of Incident Prevention magazine.
"The John McRae award is a great honor, and even more so coming from an industry full of great leaders and professionls," Grajek said after winning the award. "I never had the opportunity to meet John, but he sounds like an incredible leader and mentor. I take comfort in surrounding myself with those types of people whenever the opportunity presents itself."
Grajek was selected to receive the award due to his commitment to the USOLN and its work. "Chris has dedicated himself to the Utility Safety & Ops Leadership Network by serving on the CUSP exam development committee and, more recently, the CUSP governing board," said Carla Housh, USOLN executive director and publisher of Incident Prevention magazine. "He, along with other Canadian CUSP credential-holders, recognizes the benefits of the program and has worked to support and advance CUSP growth for Canadian utilities. Chris' safety leadership knowledge, along with his passion for advancing the CUSP program, has had a significant impact on the success of the Northern program, and we are sincerely appreciative of his efforts."
The Certified Utility Safety Professional program is the only program that offers utility-specific safety leadership credentials to meet the unique requirements of utilities and utility contractors. The CUSP credential is earned by those who meet specific eligibility requirements and pass the CUSP exam.
Grajek's Safety Journey
Before joining the team at Allteck Line Contractors, Grajek spent his early years in the industry at S&R Sawmills Ltd., a custom-cutting sawmill, while attending college. He often worked nights and weekends, and after a number of years in production and maintenance, Grajek discovered an opportunity to assist the company with regulatory compliance. "The OH&S framework was changing and industry was having difficulty achieving compliance," he said. "I was learning policy development in university at the time and put myself forward to offer assistance. Unknowingly at the time, that was the start of my safety profession."
Grajek spent the next five years at S&R helping to deconstruct the framework of the company's operation and create a functional program from the ground up. This offered him opportunities in areas including quality control, training and environmental. In addition to writing policies and procedures, the work also involved development of graphical procedures to help address the functional illiteracy rate within the industry.
In the spirit of not becoming a "lifer," Grajek said, he eventually began to seek out new opportunities. After providing consulting services for a few years, he found a position at Allteck, where he's stayed for 11 years. "It was just what I needed," Grajek said. "Each day brings a new challenge, and the industry is certainly full of them. There have been some incredible changes in our work over the years. This is a credit to the great people in the industry and their boundless efforts to take safety into the next generation."
Today, in his role as director of safety and work methods at Allteck, Grajek leads a team of trades trainers and field safety coordinators for local and international construction and maintenance activities. Not only did he earn his CUSP credential, but he also is a Canadian Registered Safety Professional, and has extensive experience in heavy construction; high-voltage transmission, distribution and substation projects; remote and heavy-terrain environments; air and marine logistical operations; and various specialized work methods for the electric utility sector. In addition, Grajek is a member of the Crane Association Governing Board as well as being involved with the USOLN and a number of transmission and distribution partnership task teams.
When he's off the job, Grajek said he enjoys "a great family and an incredible wife. Young kids are a whole different animal, and there is no handbook on that. They are the greatest challenge in my life and my most important leadership role. We enjoy the great outdoors where we live in British Columbia, and we take every opportunity to bike the mountains and kayak the waters."
For more information about USOLN awards, including how to nominate someone for a 2018 award, please contact Carla Housh at choush@utilitybusinessmedia.com or 815-459-1796.
---
Kate Wade
Kate Wade is the managing editor of Utility Fleet Professional and Incident Prevention magazines. She has been employed by Utility Business Media Inc. since 2008.
---