Air Quality Logger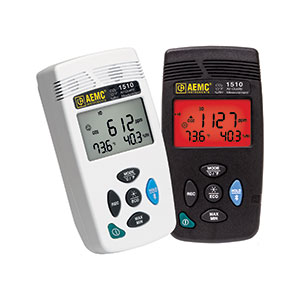 AEMC Instruments' Model 1510 tests indoor air quality. With the COVID-19 pandemic happening, this is an important time to monitor air quality in closed rooms through a CO2 measurement. The buildup of CO2 is an indicator of poor air circulation allowing aerosol concentrations, such as COVID-19, to remain in the room.
The Model 1510 portable indoor air quality logger is easy to use and can store over 1 million measurements. It can indicate air quality by monitoring CO2, humidity and temperature. This meter's display backlighting changes from blue to red with an audible warning when high concentrations of CO2 are present. This is a warning that the premises should be vacated until the room has been properly ventilated.
The meter can be connected to a PC via USB or wirelessly by Bluetooth. Software can be used to program recordings, save the measured values in graphic or table form, export them to Excel and create reports. An Android app is available to display data on mobile devices in real time.
The Model 1510 is equipped with a magnet, allowing it to be attached to any metal surface. Optional accessories include a lockable wall holster, which provides theft protection, and a tabletop stand for easy transportation to different locations.