2015 USOLN Safety Award Winners Announced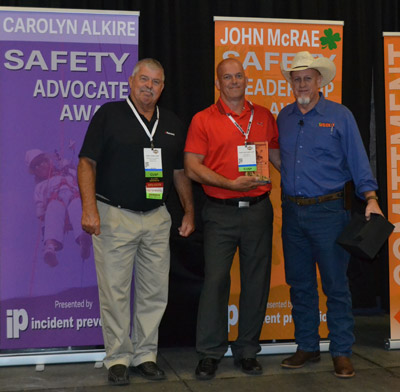 On September 28, the Utility Safety & Ops Leadership Network held its annual awards ceremony at the iP Utility Safety Conference & Expo in Louisville, Ky. During the event, USOLN board members presented the John McRae Safety Leadership Award to Robert "Bo" Maryyanek, CSP, CUSP, MBA, and the Carolyn Alkire Safety Advocate Award to David McPeak, CET, CHST, CSP, CSSM, CUSP. Maryyanek currently serves as eastern regional safety manager for Asplundh Construction Corp. McPeak is director of corporate safety programs at Pike Enterprises LLC, as well as director of Stay Safe Solutions LLC.
The John McRae Safety Leadership Award was created to honor McRae, a fourth-generation lineman who enjoyed a 42-year career before passing away July 27, 2010. He was active in the military reserves for nearly 30 years and instrumental in establishing the Massachusetts Municipal Lineman's Association. McRae, a member of San Diego's IBEW Local 465, spoke across the country about electrical training and went on to assist in the launch of Incident Prevention magazine.
Maryyanek was chosen to receive this award because of his commitment to workplace safety and heavy investment of time and energy in industry safety organizations including the USOLN. "To personally know Bo is to understand his passion for safety," said Carla Housh, USOLN executive director and publisher of Incident Prevention magazine. "His intensity and dedication to building a safer utility work environment come straight from the heart. Bo is a tremendous supporter of the Certified Utility Safety Professional program, and he also had the pleasure of knowing John McRae as a member of IUOTA. I know John would be extremely pleased that Bo is the 2015 recipient of his namesake award."
After beginning his utility career as a diesel and auto mechanic for Massachusetts Electric Co. – which is now owned and operated by National Grid – Maryyanek became a lineman for the company in 1991. He repaired and constructed transmission, distribution and underground power lines until 1998, and from 1998 to 2002 he served as an overhead lines supervisor. Following the serious electrical contact of a co-worker and friend, Maryyanek was asked by his company's leadership to assume a temporary safety representative role. In this role he investigated the electrical contact incident as well as day-to-day safety operations. Maryyanek was then encouraged to take on a permanent role as a safety program manager for National Grid, which he accepted. In that capacity, he helped to restructure several safety departments and open two in-house medical departments.
In 2011, Maryyanek became National Grid's New England regional safety manager. Then, in 2013, Asplundh Construction Corp. was awarded a contract by National Grid. At that time, Maryyanek accepted the position of Asplundh's New England safety manager; his responsibility was to implement the National Grid work and manage safety expectations. Earlier this year, Maryyanek was promoted to his current role of eastern regional safety manager, overseeing Asplundh crews and safety staff in six states.
When asked how he feels about being this year's recipient of the John McRae Safety Leadership Award, Maryyanek said, "I worked with John McRae through the IUOTA safety and trainers team, and I knew him as a safety leader in our industry. Being presented with this safety award from my peers, in his name, is validation to me that I'm doing things right in a field in which you don't always know if you made a difference in saving a life or making the environment safer. I thank my employers for leading me down this career path and providing the education needed to succeed; Asplundh Construction for sending me to the iP Utility Safety Conference to continue my safety knowledge; and the USOLN for presenting me with this award."
Outside of work, Maryyanek loves spending time with his son and daughter. He also enjoys competing in obstacle course races and has completed more than a dozen this year, including earning his Spartan Trifecta at the age of 50.
An Active Safety Advocate
The Carolyn Alkire Safety Advocate Award honors Alkire, a 40-year employee of San Diego Gas & Electric who passed away July 11, 2008. She was active in a variety of industry groups including iP safety conferences, IUOTA, the Western Underground Committee and the Institute for Safety in Powerline Construction.
McPeak, too, is an incredibly active safety advocate, which heavily factored into the USOLN's decision to present him with the Carolyn Alkire Safety Advocate Award. "As if serving as Pike's director of corporate safety programs weren't enough, David also manages to be a major contributor to the Incident Prevention editorial advisory board," Housh said. "This volunteer position requires extensive utility industry safety and operations knowledge and untold hours of review and collaboration with editorial board members. David also serves on the USOLN board and has been instrumental in the advancement of the FRONTLINE Utility Leadership program since its inception. I appreciate all he has done on behalf of our mission to advance safety in the utility industry."
A graduate of the University of North Carolina at Greensboro with a degree in information systems and operations management, McPeak has been an employee of Pike Enterprises since 2005. In addition to his work with Pike, Incident Prevention and the USOLN, he currently serves as a member of the North Carolina Apprenticeship Council and is a past chairman of Task Team One of the OSHA ET&D Partnership. McPeak has extensive experience in safety and training, has earned multiple industry certifications – including the Certified Safety Professional and Certified Utility Safety Professional designations – and has also received numerous awards, including being recognized by the National Safety Council as a Rising Star of Safety.
Upon receiving the Carolyn Alkire Safety Advocate Award, McPeak said he was both humbled by the gesture and extremely honored to be involved with the USOLN. He also thanked his employer for the culture it has built over the years. "While I am passionate about safety, this award is more reflective of the Pike organization," McPeak said. "Our CEO, Eric Pike, believes that you cannot out-produce safety, and the expectation every day for every employee is professionalism defined as safe, quality and productive work. His belief filters into every level of the organization, and it is my privilege to work for a company that 'gets' and promotes safety. Personally, I cannot think of anything more professionally rewarding than helping to prevent injuries and playing a role in the professional development of others."
When he's not working, McPeak enjoys spending time with his wife and son, and he recently began volunteering as a Cub Scouts den leader. His family loves sports, including golf, paddleboarding, swimming, basketball and soccer, and they are active members of their church. McPeak and his son also share a passion for anything involving Legos.
For more information about the USOLN awards, including how to nominate someone for a 2016 award, please contact Carla Housh at carla@incident-prevention.com or 815-459-1796.
Safety Management, Leadership Development
---
Kate Wade
Kate Wade is the managing editor of Utility Fleet Professional and Incident Prevention magazines. She has been employed by Utility Business Media Inc. since 2008.
---