2014 USOLN Safety Award Winners Announced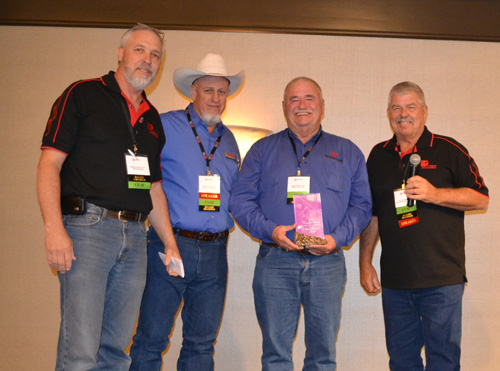 During the iP Utility Safety Conference & Expo held this November in Costa Mesa, Calif., representatives from the Utility Safety & Ops Leadership Network presented the 2014 Carolyn Alkire Safety Advocate Award to John Morton, CUSP, of Willbros Utility T&D, and the 2014 John McRae Safety Leadership Award to John Price, CUSP, of ENMAX Power Corp.
The Carolyn Alkire Safety Advocate Award honors Carolyn Alkire, a 40-year employee of San Diego Gas & Electric and a partner in safety to the U.S. electric utility industry. Alkire passed away on July 11, 2008. She was active in a variety of industry groups including iP safety conferences, the Inter-Utility Overhead Training Association, Western Underground and the Institute for Safety in Powerline Construction.
Morton was chosen to receive this award because he has been a valuable supporter of the USOLN from the very beginning, according to Carla Housh, USOLN executive director and publisher of Incident Prevention magazine. "John is a member of the USOLN's board of directors and actually sat for the Certified Utility Safety Professional exam when it was first offered at our safety conference in Denver in 2010," she said. "Much like Carolyn Alkire, John works very hard to maintain a strong safety culture for his employer. He is dedicated to making sure all Willbros employees go home to their families each day."
Morton began his career in the electrical industry in 1970 for Houston Lighting and Power, now known as CenterPoint Energy, and in 1997 he accepted a position at Texas A&M University's extension service as a trainer for the electric and communication industry. In 2004 Morton became director of safety and training for Willbros T&D Services in Texas, where he was instrumental in writing the company's safety standard and implementing a Department of Labor-approved apprenticeship training program that has been recognized by the Texas Veterans Commission. In September of this year, Morton was named director of HSE for Willbros Utility T&D, one of four segments within Willbros Group that is specifically aligned with the utility industry. The segment has components in Vermont, Maryland, Virginia, Texas, New Mexico, Oklahoma and Florida. Morton is also a voting member of ASTM International Committee F18 on Electrical Protective Equipment for Workers.
When asked how he felt about receiving the award, Morton said he was "surprised and humbled. First and foremost, I want to thank the awards committee. This is a huge standard and responsibility to maintain, and I will do my best to ensure that my actions and activities continue to show honor and respect for Carolyn, the USOLN, Willbros, and for all of the people that it is my honor and pleasure to interact with on a regular basis. Honesty, character and ethics should be a part of every safety professional's life, and I will do all in my power to inspire others to strive for excellence and the safety of all employees everywhere."
When he's not working, Morton and Yvonne, his wife of 45 years, spend as much time as possible with their children and grandchildren. They also enjoy fishing, hunting and going on cruises whenever opportunities present themselves.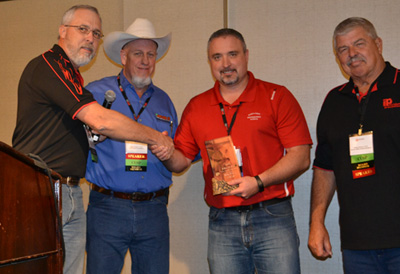 A Strong Safety Leader
The John McRae Safety Leadership Award was created to honor John McRae, a fourth-generation lineman who enjoyed an inspiring 42-year career before passing away on July 27, 2010. He was active in the military reserves for nearly 30 years and instrumental in establishing the Massachusetts Municipal Lineman's Association. McRae, a member of San Diego's IBEW Local 465, spoke across the country about electrical training and went on to assist in the launch of Incident Prevention magazine.
"John Price is a strong safety leader much like John McRae," said Housh of the decision to present Price with the award. "He joined the USOLN in 2012 and has been a Certified Utility Safety Professional since passing the exam in 2013. In the last year there has been a strong interest in building a Canadian version of the CUSP program, and John is working with other Canadian utility safety professionals to develop a path to make that happen. John is a true professional and has dedicated untold hours toward this goal."
Price has been in the electric industry since 1997, began his power-line technician apprenticeship in 1999 and became a journeyman in 2003. Starting in 2004 he spent eight years in the fire department in Calgary, including four years in emergency management and health and safety. During that time Price also worked as a contractor for electrical installers in and around Calgary. He joined ENMAX Power Corp. in 2011 as a safety specialist, served as a field services safety supervisor in 2012, and now acts as the organization's manager of safety, work methods and quality management.
"I have a passion for safety and a sincere desire to do what I can to benefit the health and safety of all workers," Price said after receiving his award. "It's easy to say that we care about the health and safety of workers, but putting actions to words has been my goal. As a group, the USOLN is working to align safe work practices and methods across the North American utility industry to ensure that every worker goes home the same way they came to work."
Price has been married for 21 years and has two children, Liv, who is 16, and Payton, who is 14. He's earned a number of certifications and holds a bachelor's degree in kinesiology from the University of Calgary.
For more information about the awards, including how to nominate someone for a 2015 award, please contact Carla Housh at carla@incident-prevention or 815-459-1796.
Safety Management, Leadership Development
---
Kate Wade
Kate Wade is the managing editor of Utility Fleet Professional and Incident Prevention magazines. She has been employed by Utility Business Media Inc. since 2008.
---