2013 USOLN Safety Award Winners Announced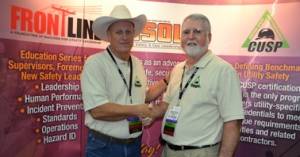 During the iP Utility Safety Conference & Expo held earlier this year in Louisville, Ky., representatives from the Utility Safety & Ops Leadership Network presented the 2013 John McRae Safety Leadership Award to Jim Vaughn, CUSP, and the 2013 Carolyn Alkire Safety Advocate Award to Michael Getman, CUSP.
The John McRae Safety Leadership Award was created to honor John McRae, a fourth-generation lineman who enjoyed an inspiring 42-year career before passing away on July 27, 2010. He was active in the military reserves for nearly 30 years and instrumental in establishing the Massachusetts Municipal Lineman's Association. McRae, a member of San Diego's IBEW Local 465, spoke across the country about electrical training and went on to assist in the launch of Incident Prevention magazine.
Vaughn, who is currently the director of safety for Atkinson Power in Chandler, Ariz., was chosen as the recipient of the John McRae Safety Leadership Award based on his years of dedication to utility safety through his continued work with Incident Prevention and the USOLN.
"Jim is our rock," said Carla Housh, Incident Prevention's publisher and executive director of the USOLN. "He's been involved with iP since the beginning. He's always been there for us, and I'm honored to have him as my friend."
Vaughn's dedication to safety is founded upon a passion for teaching others what he's learned during his career, which he began as a lineman and foreman for Florida Power & Light Co. in the early 1970s. After receiving the safety leadership award, Vaughn stated, "I don't know of anyone in this business that does it for anything more than the knowledge that what we do prevents incidents, protects our colleagues and perhaps even prevents a loss of life. The honor of the John McRae award is, to me, two things. One is keeping John's safety commitment and dedication alive and as an inspiration to us in the industry. The second is the recognition of all the people over the last 40 years who have taught me and given me a passion for safety in this industry, and that goes for my contemporaries today. I learn something every week and it never gets old. It is reward enough for me to see safety people be successful through what we do at Incident Prevention. The John McRae award is icing on a very good cake."
A True Safety Advocate
The Carolyn Alkire Safety Advocate Award honors Carolyn Alkire, a 40-year employee of San Diego Gas & Electric and a partner in safety to the U.S. electric utility industry. Alkire passed away on July 11, 2008. She was active in a variety of industry groups including iP safety conferences, the Inter-Utility Overhead Training Association, Western Underground and the Institute for Safety in Powerline Construction.
"Michael is a true safety advocate and shows true leadership skills," said Housh when explaining why Getman was honored as the recipient of the award. "He is highly knowledgeable about utility safety, and he's one of those guys who is there whenever you need him."
Getman has been a safety manager for Clark Public Utilities in Vancouver, Wash., for more than six years, and currently serves as a USOLN board member. He began his lineman career with Connecticut Light & Power, now a subsidiary of Northeast Utilities, in 1973.
"I have been speechless only a couple of times in my life, and when I received the Carolyn Alkire award, well, that was number three," said Getman a week after quietly accepting the award in Louisville. "I would like to thank the awards committee and the USOLN board of directors for this award. I am honored and truly blessed to be associated with this group of highly regarded safety professionals. As a group, they span the U.S., but operate as one highly motivated, focused and close-knit body with one goal in mind: the safety of employees everywhere. Most of all, I value their friendship and know that no matter where I am or what I am doing, I can call on and lean on them for guidance and support."
For more information about the awards, including how to nominate someone for a 2014 award, please contact Carla Housh at carla@incident-prevention or 815-459-1796.
Safety Management, Leadership Development
---
Kate Wade
Kate Wade is the managing editor of Utility Fleet Professional and Incident Prevention magazines. She has been employed by Utility Business Media Inc. since 2008.
---