The Hard Hat Celebrates 100 Years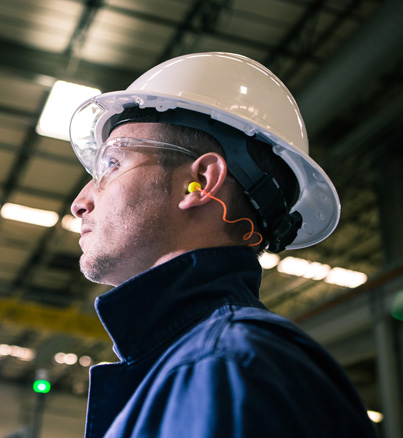 When you think of people who have changed our lives with their inventions, you may think about Thomas Edison and his lightbulb or Alexander Graham Bell and his telephone. Not many of us would think to include Edward W. Bullard on that list, but 100 years ago – in 1919 – he invented the hard hat, which today is one of the most recognized safety products in the world and is responsible for saving thousands of lives over the past century.
To truly trace the heritage of the hard hat, we have to go back even further to 1898, when Edward Dickinson Bullard founded E.D. Bullard Co. in San Francisco. The company originally supplied carbide lamps and other mining equipment to gold and copper miners in California, Nevada and Arizona. Then, when Bullard's son, Edward W. Bullard, returned from serving in World War I, he went to work for Bullard Co., combining his understanding of customer needs with his experiences with his doughboy army helmet to design protective headgear for miners.
The young Bullard called his protective headgear design the Hard Boiled Hat because of the steam used in its manufacturing process. The original Hard Boiled Hat was made of steamed canvas, glue, a leather brim and black paint. This invention revolutionized mine and construction worker safety. Edward W. Bullard then took his Hard Boiled design one step further by building a suspension device into the hat, and that became the world's first commercially available industrial head-protection device.
Fast-forward to the 1930s when construction was underway on the Golden Gate Bridge and the Hoover Dam, two of the most iconic construction sites in the history of the United States – and where it just so happened that hard hats were first worn by workers to protect their heads from falling debris. While the Golden Gate Bridge was being constructed in San Francisco, bridge engineer Joseph B. Strauss contacted Bullard Co. to request that the company adapt its hats to protect bridge workers. One of the problems on the bridge project were falling rivets, which could have caused serious injury to workers. Bullard accepted the challenge from Strauss, and the bridge project turned out to be the catalyst that transformed the mining helmet into a durable industrial hard hat.
Now, 80 years later – and more than 120 years since its founding – Bullard Co. has evolved into an international manufacturer of hard hats as well as other personal protective equipment (PPE) and safety equipment, including respiratory products, fire helmets and thermal imagers. The company credits Edward W. Bullard for laying the foundation for innovative engineering principles across its current product lines.
Last Line of Defense
It's no secret that PPE – including hard hats – is a worker's last line of defense while on the job. Throughout my years working at Bullard Co., I have heard so many stories from workers who have credited wearing a hard hat with saving their lives. The reality is that utility and construction workers need hard hats to stay safe when performing their tasks, not to mention that they are required by law in specific situations and environments. Workers often use the hierarchy of controls – including eliminating hazards and using engineering and administrative controls – to create a safe working environment, but due to the risk of human error, PPE must be worn at the work site as protection against the hazards that we don't see or anticipate. Unforeseen accidents can happen in the blink of an eye and change our lives forever, but workers can help to avoid hazards and injuries by wearing head protection. In short, the hard hat remains an essential part of a worker's attire on job sites across America and beyond.
However, that hasn't always been the case, at least in the U.S. It wasn't until OSHA was established in the 1970s that wearing a hard hat on work sites became mandatory. Now, according to 29 CFR 1926.100(a), "Employees working in areas where there is a possible danger of head injury from impact, or from falling or flying objects, or from electrical shock and burns, shall be protected by protective helmets."
Great Advancements
As you might expect, the protective helmets mandated by OSHA have advanced greatly over the past century, mainly because of advances in materials such as fiberglass. Today, thermoplastics is the standard material used for hard hat construction because it's easy to mold and shape with applied heat. Currently, more than 6 million hard hats are sold each year in the U.S.
Among the reasons PPE manufacturers are becoming more innovative in their hard hat designs is because workers are demanding greater comfort, style and safety in their hard hat models. Hats are designed to meet or exceed the requirements of the ANSI/ISEA Z89.1 standard regarding industrial head protection. New-model hard hats recently have been introduced by manufacturers that are designed for the way workers perform their jobs on today's job sites. For instance, new head protection models that offer a see-through visor on the bill of a hard hat is one way of enabling workers to better see the hazards that may be lurking above them. Updates in hard hat suspensions and brow pads also are new choices employers and workers now have when selecting the right head protection for their type of work.
Other more recent enhancements to the hard hat include customization options for branding a company's safety message, and different hat colors to choose from that will help individuals to easily identify key personnel on job sites. Think of your hard hat as a walking billboard promoting your company and its safety principles.
In addition, low visibility is a danger for anyone working outside, which is why hard hat manufacturers offer several high-visibility options. Workers can increase the visibility of their hard hat by choosing a high-visibility shell color, such as yellow, green or orange. Hard hats that meet the nonmandatory requirements for high-visibility (see ANSI/ISEA Z89.1-2014) are marked "HV" by the manufacturer. Be aware that if your hard hat is a high-visibility color, prolonged daylight exposure can fade that color and thereby compromise both visibility and safety. Because ultraviolet rays degrade colorants, hard hats should not be stored in direct sunlight when not in use.
Adding striping to a hard hat is another way to increase visibility; this striping typically is reflective and/or fluorescent in color. To achieve improved retroreflectance, use striping with a high CPL number. To achieve 360-degree reflectivity, add striping all the way around the brim of the hard hat.
Summary
Edward W. Bullard deserves thanks for helping to improve the safety and lives of so many workers for the last 100 years. His legacy continues today with fifth-generation CEO Wells Bullard leading Bullard Co. The next time you wear your hard hat, think about the many men and women before you who have benefited from this innovative safety product, as well as all of those who continue to work to improve upon it so that you and your team stay safe on the job.
About the Author: Stacey Simmons is the product manager for industrial head and face protection products at Bullard Co. (www.bullard.com), a leading manufacturer of personal protective equipment and systems worldwide. Her product responsibilities include head and face protection and body temperature management. Simmons also serves as the product chair of the Industrial Safety Equipment Association's (ISEA) Head Protection Committee. ISEA is the leading association for personal protective equipment and technologies that enable people to work in hazardous environments.