Stepping Up Steel Safety Education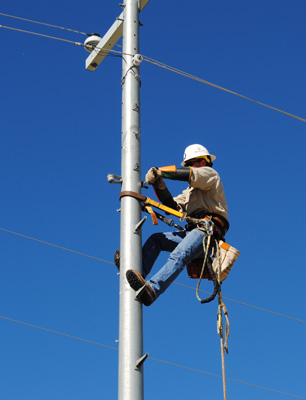 It's estimated that between 2 million and 4 million utility poles are replaced annually in the U.S., and in almost every region of the country, many of those replacement poles are now made of steel. In fact, more than 1 million steel distribution poles have been installed by electric utilities across the country in the last decade. That number is expected to rise considerably as utilities strive to keep up with the need for new lines, replace aging and damaged poles and harden existing lines.
The increased use of steel utility poles in distribution lines has created a need for new training and coursework for student, apprentice and journeyman lineworker programs nationwide. For years, the Steel Market Development Institute (SMDI) has developed training standards and guidelines, and in 2013 it teamed with several respected leaders in utility safety and line work training to update and bring new materials to the trade. Among the organizations SMDI collaborated with are the Institute for Safety in Powerline Construction (ISPC), based in Alexandria, La., and Metropolitan Community College (MCC) in Omaha, Neb., which offers a leading utility line technician program. Through these partnerships, steel pole training programs have become well-established, and both coursework and program participation continue to evolve.
Mack Turner, CUSP, director of operations for ISPC, is unwavering about ISPC's mission to emphasize safety awareness and best practices. "For linemen training programs, the increased use of steel poles is an opportune time to reinforce safety protocols and procedures across the board," he said.
Rich Newcomer, instructor for MCC's utility line technical training program, agreed with Turner. "With steel poles increasing in use by the utility industry, we had to expand our training to provide students with the appropriate amount of education and situational awareness necessary to working with steel in the line," he said. "Our philosophy is that we give them real-world experience before they go out in the real world. Today, part of that real world is working with steel poles."
SMDI has also worked closely with utilities and lineworker associations to bring hands-on training with steel into the mix. For example, SMDI and ISPC have presented steel pole training at the New Mexico Rural Electric Cooperative Superintendents' Association Overhead Hot Line and Maintenance School in Las Cruces for the past three years. According to Mike Hughes, school organizer and line superintendent for Central New Mexico Electric Cooperative, "The annual field training with steel poles benefits many co-op employees. Safety is our top priority and knowing how to handle all materials is essential."
Training Program Expansion
In 2001, MCC was among the first lineworker training schools to expand its utility line curriculum to include coursework related to steel pole installation and maintenance. Training included one-day sessions with classroom and hands-on field demonstrations.
Today, steel pole training is embedded into MCC's overall program, which offers classroom and hands-on activities that also focus on wood, concrete and other materials that lineworkers use in the field. Utility line students now have the opportunity to install and maintain a distribution line with steel poles. As part of MCC's program, students who have had some basic training in pole climbing and working with utility trucks are assigned to small crews to build a small, de-energized power line that includes both wood and steel poles. The students frame, set and work the poles in the line. When the line is completed, the crews perform routine maintenance – such as reconductoring a line – and, at a later date, return to replace a pole.
"The purpose of the lineman school and the pre-apprentice school training is to introduce the students to the trade and provide the tools to get a really good start," Newcomer said. "That requires a continuously improving curriculum that covers all the equipment and materials they will use as lineworkers."
MCC regularly works with SMDI to improve and expand its curriculum. Recently, Newcomer provided technical direction to SMDI in the development of updated student lineworker instructional materials to add to SMDI's growing lineworker training library. These materials, which include videos, reading materials and quizzes, are available for free to lineworker training schools both in print and online at http://lineman.steel.org. Among the topics covered are climbing, drilling, field deployment, framing, installation and safety.
"These materials are very useful as reinforcement to our curriculums," Newcomer said. "I plan to link to the new curriculum through our school's learning management system. Through this new curriculum, I can have the students work with the online self-study and then reinforce the lessons with hands-on work in our expanded training yard."
Critical Lineworker Training
Southeast Lineman Training Center (SLTC) and Oklahoma State University's power transmission and distribution programs have also expanded classroom curriculums and day/night field work with steel distribution poles.
Tim Self, CUSP, director of safety and specialized training for the Trenton, Ga.-based SLTC, is a strong advocate for ongoing training of all types, especially safety training. According to Self, "The most critical part of training for lineworkers is a good scholastic program that gives theory and fundamentals and a strong skills-based curriculum that ensures the students are acquiring the skills as they are taught. The new distribution program will help linemen fine-tune and reinforce safety practices for working with steel poles."
He added that steel poles are being used more and more because of their resiliency. "Steel distribution poles don't see as much damage in harsh weather conditions or storms as compared to wood. So it's in our students' best interests to learn how to install and repair steel poles in a variety of situations."
Moving forward, SMDI's primary focus will be on embedding steel pole training into regular lineworker training. Periodic lineworker training workshops with classroom and hands-on demonstrations will continue to be offered at top lineworker schools throughout the U.S. This instruction is designed to work in tandem with the new training materials available at http://lineman.steel.org.
Meeting Energized Training Needs
As more steel poles are installed across the country, more investor-owned utilities, municipal utilities and cooperatives are seeking advanced, comprehensive materials to help train their lineworkers. Part of SMDI's work with ISPC and training provider T&D PowerSkills has been to closely collaborate to expand their considerable library of training materials to include energized distribution training materials focused on steel poles.
The new training materials ISPC developed in concert with SMDI – which include a series of videos and corresponding curriculum – help to illustrate the similarities and subtle differences between steel and wood poles, as well as the benefits of using steel in a power distribution system. Specifically, the materials provide an overview of steel poles as distribution system structures and also cover joining multiple-section steel poles, framing and setting steel poles (de-energized), energized line work and climbing steel poles, plus additional considerations.
"We developed these materials to equip current and future linemen to work with steel poles, particularly on energized lines," said Daniel Snyder, SMDI's director of business development. "The safety procedures for steel poles are similar to those of other material types. It is important for linemen to comply with the safety practices required by their companies."
Conclusion
Given the increasing number of steel poles being installed across the U.S., today's lineworkers must know how to work with them. Fortunately, training providers in all parts of the country are aware of the need for this type of education and are addressing the challenge head-on. The mix of classroom and hands-on training being developed and delivered by organizations like MCC, ISPC, SLTC, SMDI and others will help to ensure the nation's lineworkers continue to strengthen the skills they need to help keep themselves and their crew members safe on the job.
About the Author: Keith Lindemulder is chairman of the Steel Market Development Institute's Steel Utility Pole Task Group and also serves as environmental business development manager for Nucor Corp. He has more than 25 years of experience in the steel industry and is also chairman of the North Texas Chapter of the U.S. Green Building Council.