SRP Rope Access Program Addresses Towers of Power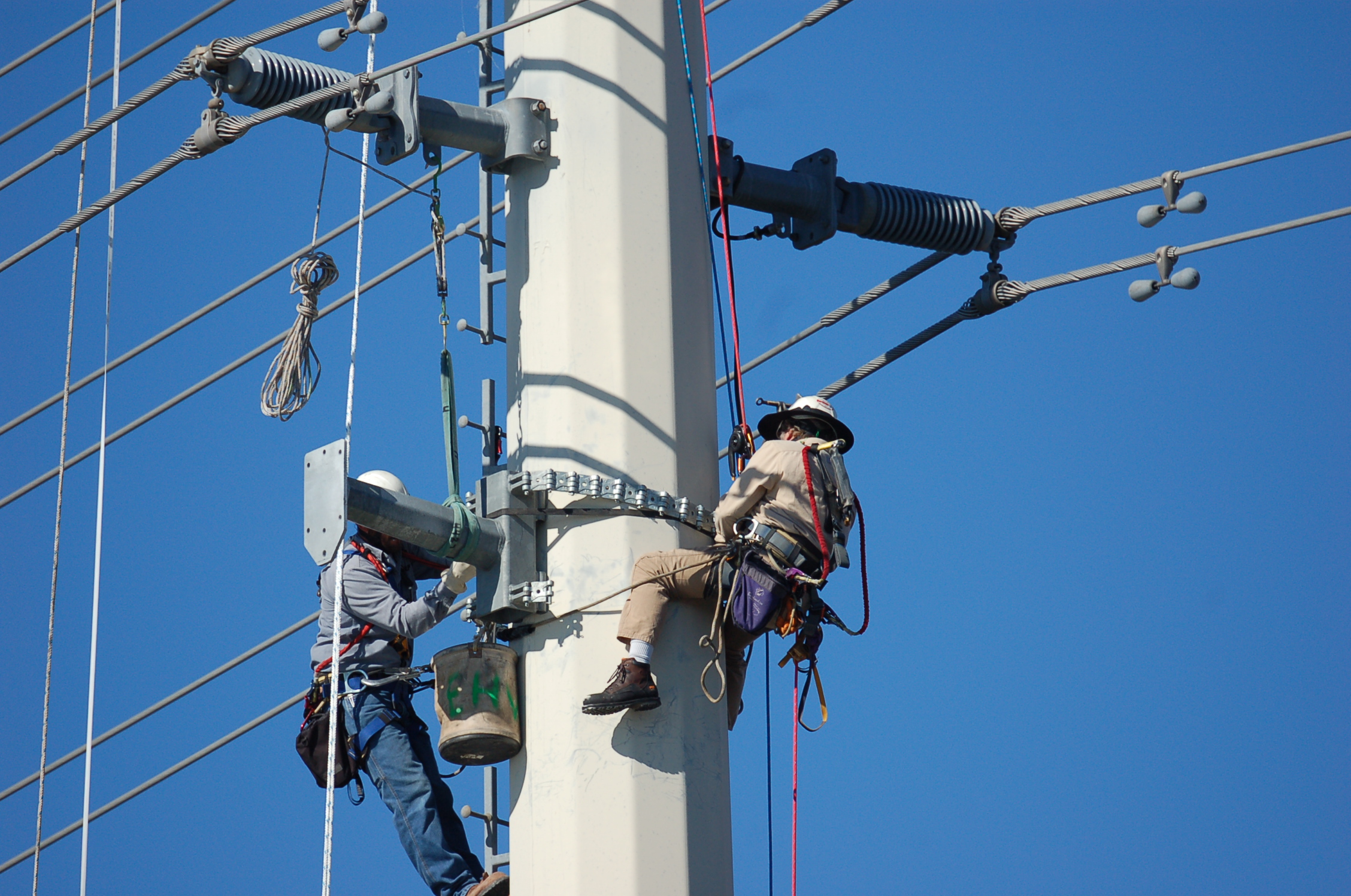 You're working 120 feet above the desert floor on a high-voltage transmission line. A crewmate slips out of part of his rigging and hits hard against the skeletal metal superstructure of the lattice tower. The work site is miles away from town and emergency first responders. Your crewmate dangles perilously, dazed and perhaps critically injured. What do you do?
If you work at Salt River Project – a major public power, water and telecommunications utility that serves central Arizona – you and your other crewmates shift into rescue mode according to the utility's transmission tower rope access program. The formalized rescue program, developed by SRP employees expressly for transmission line work, is the result of years of evolving power-line safety practices.
History of the Program
For years, SRP has had a pole-top rescue training program in place to teach workers how to handle emergencies involving distribution lines. Training scenarios often involve bucket trucks and rely on first responder support.
Prior to 2004, however, SRP had no transmission tower rescue plan, nor was there any specialized PPE or 100 percent fall protection. These were issues the utility strongly felt it needed to address. Not only does major transmission line work often take crews to remote locations and heights of 125 feet, but SRP also operates and/or has ownership in about 1,480 miles of 500-kV and 424 miles of 230-kV transmission lines that run from the northern, northeastern and eastern borders of the state into metropolitan Phoenix. The transmission lines traverse a variety of terrain, including forests, mountains, ravines, canyons, prairie and desert.
So, 10 years ago, SRP's transmission line maintenance and transmission line construction departments, along with SRP safety professionals, began to develop comprehensive safety rescue programs specifically for those who work on transmission towers. The two departments initially established the programs independent of one another, including separate tower rescue training conducted by different third-party trainers.
The transmission line construction department based their program on a high-angle rescue approach similar to what is used to rescue technical climbers. Rescuers rely on a system of mechanical pulleys to overcome friction, gravity and the weight of the injured person being lowered to the ground. The department had the proper PPE for the task, and used equipment exclusively rated for life support and rescue, such as helmets, harnesses, ropes, carabiners, rescue blocks and self-breaking descent pulleys.
The transmission line maintenance department based their program on readily available tools and equipment located on their work trucks, including lifting shackles, hand lines, rigging, four-part blocks and hand-line sheaves.
The purpose of each program was to teach employees how to rescue an injured person from a tower in the fastest, safest way possible using available resources and manpower. While both programs had good qualities, the use of two different programs presented SRP with procedural inconsistencies and potential safety concerns.
Program Consolidation
To address the identified inconsistencies and safety concerns, in 2011 SRP executive management formed a committee comprised of representatives from both transmission line departments, management and safety services staff to develop an enterprise transmission tower rope access program. With the full support, funding and engagement of executive management, committee members worked closely with each department to combine the best attributes of the two rope rescue programs into one rope access program.
To help ensure the program's success, the SRP committee incorporated Society of Professional Rope Access Technicians (SPRAT) guidelines into program materials. SPRAT is a member-driven organization that advances the safe use of rope access through education, developing standards and administering certifications. The committee also field-tested all equipment covered by the program, including PPE, and produced a comprehensive training manual.
The final result of the committee's work was a practicable program that:
• Consolidated the two former rescue programs into one rope access program that includes 100 percent fall protection with specialized PPE.
• Established consistent work practices, thereby creating a standard operating procedure for tower work.
• Instituted standardized training.
• Allows for a more efficient and safer method of performing construction and maintenance activities. In certain circumstances, the methodology is safer than existing methods used by the operating groups.
• Addressed costs by eliminating the need for rental equipment in some cases.
Rope Access Program Training
Once the creation of the consolidated rope access program was complete, SRP's next step was to implement training for all employees who work on transmission lines. The main objectives of rope access program training are to:
• Teach trainees how to incorporate 100 percent fall protection into transmission tower work practices and rescue operations.
• Educate trainees about the various types of equipment used in rope access work.
• Instruct trainees about how to promote employee collaboration to improve the safety and efficiency of tower work practices.
• Review examples of various work practices that incorporate rope access techniques for the purposes of greater trainee understanding.
SRP is currently in the process of educating crews through both classroom and hands-on field training. Lineworkers who are assigned to transmission projects will initially take a SPRAT course followed by refresher SPRAT training every three years. SRP has also established a training facility at one of its service centers/equipment yards where lineworkers can practice their skills. Courses will be ongoing, and refresher training in tower rope access program competencies will be offered annually.
Other rescue training includes emergency radio procedures and tailboards that cover emergency preparedness. Participants review rescue scenarios and basic situations, but are frequently reminded that every emergency situation is different. In the case of an on-the-job emergency, employees are taught to assess the situation and to stay calm and not act reflexively.
All training emphasizes mental preparation for transmission tower jobs, attention to detail and the ability to respond to a crisis if the need arises. SRP trainers reinforce that the keys to working safely and productively are treating each job as a separate undertaking with a unique set of circumstances and viewing each task with a fresh perspective.
Top Priority
Safety has been a top priority at SRP for decades. Much of the utility's safety training focuses on accident prevention and awareness, and crews are also well-versed in essential safety procedures, including CPR, first aid and the use of automated external defibrillators. The decision to consolidate two separate rescue programs into one enterprise transmission tower rope access program is further proof of SRP's commitment to solving safety problems and helping to ensure its employees go home safely after each shift.
About the Author: Randi Korte, CUSP, is a senior industrial hygienist at Salt River Project. Her duties include assessing risk, preparing policies and procedures to ensure safety and regulatory compliance, developing and conducting safety training programs, investigating accidents and overseeing various corporate programs. Korte also oversees SRP's Department of Transportation program for commercial motor vehicles. She holds a bachelor's degree in geology from Boston University and a master's in soil science from the University of Arizona.
Editor's Note: If you'd like more information about SRP's rope access program, Randi Korte, CUSP, and Steve Robinson, CUSP, will present "Building a Rope Access Program for Lattice Transmission Towers" on November 3 at the iP Utility Safety Conference & Expo. Visit www.incident-prevention.com to register.
Safety Management, Worksite Safety
---
Randi Korte, CUSP
Randi Korte, CUSP has not set their biography yet
---