Rope Access for Live-Line Work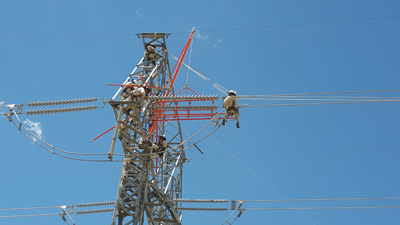 As a third-generation lineman in the high-voltage utility industry, I can say based on experience that the industry has changed slowly at certain times and radically at others. And yet one thing that has not changed much over the years is the process of performing live-line work on extra-high-voltage (EHV) transmission lines. It still requires the use of live-line tools; it still requires linemen to maintain minimum approach distances; it still requires that linemen possess the knowledge and ability to use tools properly depending on the application, whether it be steel or wood construction; and it still requires access to the energized end of the insulator string or conductor. For many years the method of accessing the "hot end," as we call it, required the use of live-line-rated aerial lifts, horizontal or vertical live-line insulated ladders or, in some instances, helicopters. Each access method has its own set of intricacies that can be time consuming, labor intensive and costly, but all of the methods have the same end result when the procedure involves the bare-hand method for conducting the maintenance work. Live-line maintenance using the hot-stick method is another topic entirely, so for the purposes of this article, I am only going to address live-line bare-hand work.
Creating a New Tool
Well before OSHA's final rule regarding 29 CFR 1910.269 and 1926 Subpart V was published in 2014, ushering in new fall protection standards, the live-line bare-hand committee within the company I work for – Tri-State Generation and Transmission, headquartered in Westminster, Colo. – began to think a great deal about providing our linemen with a new tool for performing traditional live-line work. Ongoing environmental and related job site concerns also impacted our thought process at the time. Those concerns included a lack of rights-of-way; earth disturbances caused by the need to access structures and set up aerial lift equipment; the possible need to re-vegetate earth that we disturbed during a job; lack of ability to de-energize transmission lines requiring live-line work; and the costs associated with the use of helicopters for routine live-line EHV maintenance.
The time the committee spent thinking about creating this new tool for live-line work was the beginning of developing Tri-State's rope access and rescue program for live-line bare-hand work. Basic work methods did exist at the time, but we wanted a rope access program that provided greater training and direction and could include rescue at a level that hadn't existed before but that we as linemen had always wanted. As time went on, we began to develop a comprehensive process for performing live-line transmission maintenance just as we had always done with ladders, trucks and helicopters, and it was – and continues to be – every bit as efficient, cost effective, rescue enabled and, most importantly, safe.
The year was 2013 and due to some of the aforementioned concerns, the company's live-line training committee needed to research the prospect of introducing a rope program into our live-line methods. The idea was twofold: Launching a rope program could give us new ability to perform live-line maintenance tasks, plus it could incorporate greater rescue procedures into the work.
Addressing Program Needs
Our linemen had a solid foundation in live-line tools, applications and procedures for bare-hand work, and we didn't necessarily need instruction in those areas. What we did need was additional information to introduce rope work at a different level in our bare-hand methods since we would be placing human load on the rope system. We also needed more instruction on the technical aspects of ropes and rigging that would incorporate all modern types of rope and equipment into a field that typically used rope in an entirely different way.
To address our needs, we chose one of the nation's top-rated live-line instructors – Jim McDonald – who has devoted most of his working life to live-line training and who has been instrumental in introducing rope access into the EHV transmission field. And in choosing a rope expert, we selected a company – Palo Verde Ropeworks – that didn't set out to tell us how to do our business. Instead, they enhanced our business with their level of expertise, helping us to solve the problems we faced and offering task-oriented solutions that put a focus on rescue.
As we began to move forward with the program's development, there was some level of knowledge that existed but very little to draw from, so training and procedures were developed in a controlled facility without the introduction of electricity. Rescue that included 100 percent fall protection was a hurdle that at times seemed insurmountable. However, through tenacity and working hard to improve our skills, we overcame each of our obstacles with enthusiasm, and eventually the live-line committee felt comfortable enough to engage in live-line work on an energized line outside of the controlled facility. With both the live-line training committee members and the subject matter experts on location, we executed our first live-line bare-hand rope access job five months after training began.
As training continued, the need for additional knowledge, techniques, equipment and training rose, and so did the excitement of developing a cutting-edge program that could possibly change our industry. We gave serious thought to the possibilities of what could be accomplished using these methods; in particular, it now seemed within reach to develop and implement rescue procedures that at times can be complicated due to the type of tower being worked on and the added danger of EHV levels. By empowering key Tri-State employees who had the knowledge of live-line techniques to accomplish such tasks, and by placing them under the guidance of subject matter experts, we found that our program continued to successfully progress.
Benefits of Rope Access
Within our trade, the use of ropes has been a key part of performing live-line maintenance for decades. It shouldn't be a surprise that now – with the availability of new technologies and equipment – rope access is a viable and acceptable method for performing not only live-line maintenance but routine de-energized work, with the added benefit that 100 percent fall protection can be incorporated into the systems. After a career of being involved in high-voltage line work, my knowledge of rope and its abilities is now greater that it ever has been, and I can easily say that I believe rope access is the way of the future for fall protection, regardless of whether or not rope access is used for live-line work methods.
The benefits of rope access to those directly involved in such a program may seem obvious and are sometimes taken for granted, but for those of you not directly involved, think about the job sites you have worked on where rights-of-way have not been maintained for heavy equipment. Think about the traditional bare-hand techniques that can be time consuming and cumbersome. Think about the new OSHA fall protection rules with regard to traditional bare-hand methods; they can be difficult to comply with. Think about vegetation management when heavy equipment must be used on a job. If you face these or other issues in your work, your company may want to consider learning more about rope access and rescue.
Since the inception of the rope access program at Tri-State, a number of people have asked what we have truly accomplished using a method that many view as complex. In response to that question, a few things come to mind. First is that, through our rope program, we can comply with OSHA's 100 percent fall protection rules. Second, we now have learned a brand new way to complete job-related tasks. Using the rope access method, in the last two-and-a-half years we have completed 39 live-line, bare-hand jobs on 230-/345-kV lines, including dead-end, suspension-string and V-string insulator replacements. We have also performed repairs to gunshot conductors and jumper support insulators. All of this work was done in a timely fashion, and safety was paramount throughout each job. In my experience, learning to use the rope access method has resulted in priceless training and education for Tri-State's linemen, who in turn are less intimidated by rescue procedures and, in some cases, are now more qualified than ever before to perform live-line, bare-hand work.
About the Author: Thomas Penner is a third-generation journeyman lineman who currently works for Tri-State Generation and Transmission as a transmission line maintenance supervisor. He has over 28 years of experience in the high-voltage utility industry that has spanned both the transmission and distribution arenas. Penner's main area of expertise is live-line maintenance. He can be contacted at tpenner@tristategt.org.