Overcoming Barriers to Crane and Rigging Skills Development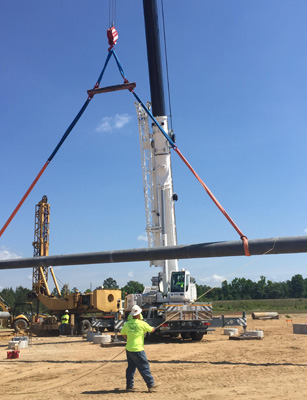 The utility industry has high expectations for employing safe work practices and readily invests in equipment and training. Maintaining a workforce with the right skills is a herculean task. Crane operation and rigging skills development presents greater challenges than some other areas because these skill sets typically are not part of the routine work schedule. Individuals with crane operator certification may have fewer than 100 hours of actual operating time in a year, or go more than a year with no seat time or hands-on practice time.
OSHA requires employers to ensure that crane operators are trained and competent without exclusion for any industry. Even while safe crane operation and rigging are critical to utilities, the lack of seat time and skills maintenance is a growing concern among utility safety departments. A strategic approach to developing those skills across business units is essential to maintaining the industry's above-average safety record.
However, utilities, like most large, complex organizations, battle the 5 C's: complex corporate culture causing complications. Different groups within the utility may, out of necessity or for other reasons, operate as silos, with little shared knowledge or resources. Construction groups, T&D and emergency response crews have different needs when it comes to crane operation skill levels. The differences between operating boom trucks or digger derricks and large telescopic or lattice boom cranes must be recognized when training individuals for typical or emergency response work environments. Yet the reality of maintaining skill levels may require staff and budget that conflict on the surface with corporate cultures that thrive on efficiencies.
To maintain qualifications in the various areas of responsibilities, utilities need to plan for and schedule practice time with cranes and rigging to reinforce and verify skill ability. Relying on a weeklong refresher training course once every five years is not sufficient for retaining competent crane operation skills.
Organizations should ask, what is the best strategy for our needs? It might be an internally developed training program or working with an outsourced partner to administer ongoing training relevant to the equipment used and the job application scenario. Utilities, however, should be wary of training that is anything less than application-specific, skills-based training.
Certify Everyone, Certify No One
One response to the problem in the complex corporate culture of utility companies is to certify everyone who may potentially be called upon to operate cranes. Unfortunately, this is a compliance-based approach that takes both time and money, and it may not truly be effective unless commitments also are made to maintain and reinforce skills regularly. Certification alone is simply a baseline of knowledge. Accredited certifications that meet the expectations set by OSHA and ANSI have long been compared to a threshold, just as a driver's license is a minimum requirement to drive a car. If that certified crane operator or rigger does not receive ongoing training, reinforced through practical experience, the certification has little value. One and done for five years is deadly thinking.
Another approach is to try to separate construction activities from nonconstruction activities by choosing alternate equipment to avoid certification. Using alternate equipment, such as a digger derrick, does not change the dynamic of the operation nor the knowledge needed to safely rig the load or make the lift. Not certifying or maintaining qualifications, and avoiding the best equipment for the job, limits the ability of crews to perform as needed.
Train to the Task
Crane operation in many utility applications tends to follow patterns of repeat lifts with typical type and weight of loads. Often these are smaller loads accomplished with boom-truck-style cranes. However, work on power plants or infrastructure may require utility employees to operate large telescopic or lattice boom cranes to replace turbines in generation rooms, for example. While some utilities may choose to rent the equipment and hire outside crane operators, as the site owner, the utility still is responsible for making sure the hired crane operator is qualified for the task according to the utility company's standards.
In addition, there likely will be times when utility employees who do not operate cranes on a daily basis may be asked to operate them. Consider what would happen if an individual forgets the distinctions of load charts and determining capacity, or if the operator is certified for a specific equipment type, but not the one he needs to operate. The key is to reinforce training and routinely re-evaluate skills and qualifications for work and equipment.
For the more common, everyday lifting skills, it is a good practice to identify supervisors or frontline employees who are particularly strong in this area. Scheduling short drills based on lessons learned from experience, which include discussions about potential hazards, helps to reinforce and maintain the skill level. Lessons could review load charts for all equipment types the employee may operate, proper hand or voice signals, reviewing hazards associated with operating in extreme weather conditions and so on. Hands-on time with machines or simulators can help retain muscle memory of operations.
For less common lifting, such as the turbine application, it may make sense to bring in an outside training professional to work with supervisors and crews to refresh crane operation skills specific to the task. This might include assistance with equipment selection and lift planning, as well as practicing the load travel route in a simulated environment.
Best Practices for Skills Development
A government power authority in the Northeast U.S. uses a learning management system to track all types of training for every employee by employee number. Whenever training takes place, a facilitator verifies if the individual actively participated in the training and demonstrated knowledge through testing. Documentation and accountability are key to this utility's success.
Skilled work is essential to safety, operational excellence and profits. A study conducted by the Construction Industry Institute – Construction Industry Craft Training RT-231 – indicates that training pays off. Among their key findings: "Each dollar invested in craft training can yield $1.30 to $3.00 in benefits." CII further quantified that when an employer invests just 1 percent of the total project budget for wages/labor into training, productivity improves, and turnover, absenteeism, injuries and rework all decrease. According to CII research, undertrained and insufficiently trained personnel increase the cost of business 18 percent on average each year. If utilities were able to save just half the national average – 9 percent – how much money would be available to train and qualify workers and purchase the best equipment for the job?
It's possible to employ a strategic plan to identify skills needed and the individuals who should be qualified. Borrowing ideas commonly used in sales and business development, an investor-owned utility in the Southeast U.S. has successfully developed individuals with qualified crane and rigging skills by using a simple, one-page training plan. Keeping the plan focused on vision, mission and commitment reduces the chance that the intent gets lost to management's interpretation.
Following are the key elements of the plan:
Record goals for operational excellence.
Identify responsible departments or job titles.
Provide a schedule of who does what by when.
Set expectations for a results-oriented budget and cost savings.
To implement the plan:
Choose the right equipment for the job. Different types of cranes are better suited for different types of lifting based on the job site conditions, size and weight of the load, and load radius. That requires operators to be familiar with specific types of cranes, such as telescopic crawlers, lattice boom crawlers, telescopic truck cranes and more. In addition, utilizing equipment such as digger derricks when a crane is truly needed is an unnecessary risk.
Decide which job titles will be responsible for what work, skills and knowledge. Develop a quarterly skills refresher plan. Document and compare scores from quarter to quarter. Provide more practice when warranted.
Certify as needed, but focus on maintenance of The government power authority referenced earlier, which uses a learning management system, has created an environment where training is progressive, and redundant only if necessary. By eliminating a one-size-fits-all approach, they are able to more efficiently use outside training providers to get novices started on crane and rigging qualifications or to supplement more advanced crane and rigging training.
Qualify by specific crane and its configuration, and for the work application. Fortunately, crane and rigging skills are measurable. Several of our utility clients use courses similar to those used by lineworkers to practice climbing poles, but these courses are focused on crane work instead. It's important for tasks to be job-specific, such as removing and replacing a transformer or handling poles in a controlled manner. The investor-owned utility in the Southeast that was referenced earlier has a course with a predefined work area. If the crane comes too close to the area designated as a live line, a buzzer sounds. This trains for accurate boom and load control.
Practice – it makes perfect. Become proficient in routine operations and develop foundational skills for use in less common situations.
Identify mentors and schedule time for on-the-job learning for every crew member from whom skill is expected.
Evaluate and document skill levels at least once a year, or more if actions warrant.
Summary
Management should rely on team leaders and supervisors to know what training is needed to keep crews safe and productive. Employing and developing people with the right crane and rigging skills reasonably sets the expectations for reduced costs, increased profits and – most important – safer work environments.
About the Author: Deborah L. Dickinson is an expert on personnel qualification auditing and assessment. She has worked on a team to develop legally defensible employee selection systems and accredited employee certification programs. As CEO of Crane Industry Services (http://centeredonsafety.com), she works with training departments and crane and rigging subject matter experts within utility organizations to establish workforce development and skills qualifications plans.