NESC and ANSI Z535 Safety Sign Standards for Electric Utility Power Plants and Substations
Both the NESC ANSI C2 rules and OSHA regulations require signs at appropriate places around utility facilities and workplaces. ANSI Z535 standards that specify the attributes of appropriate safety signs and labels for utility use include ANSI Z535.2: Environmental and Facility Safety Signs, ANSI Z535.3: Criteria for Safety Symbols and ANSI Z535.5: Safety Tags and Barricade Tapes (for Temporary Hazards). The coordinated ANSI Z535 criteria apply to every temporary or permanent safety sign or tag on a utility system.
Recent Format Changes
Safety signs are comprised of a signal word panel and a message panel, in many cases augmented by a safety symbol panel. Relatively new is the single-color signal word panel that does not have a black surround shape and includes the international safety alert symbol – composed of an exclamation point within a triangle – before the signal word. See Figure 1.


Figure 1: Signal Word Panel Changes in the 1998 and 2002 ANSI Z535 Standards
ANSI Z535.2: Environmental and Facility Safety Signs
Environmental and facility safety signs are intended to communicate the presence of environmental hazards to the observer in the area. They are usually larger and contain less information than product safety signs and labels in order to be clearly understood at longer distances. Table 1: Classification and Use of Signal Words shows the signal words for the seven basic classifications used for environmental and facility safety signs. Safety tags and barricade tapes use only the first five classifications.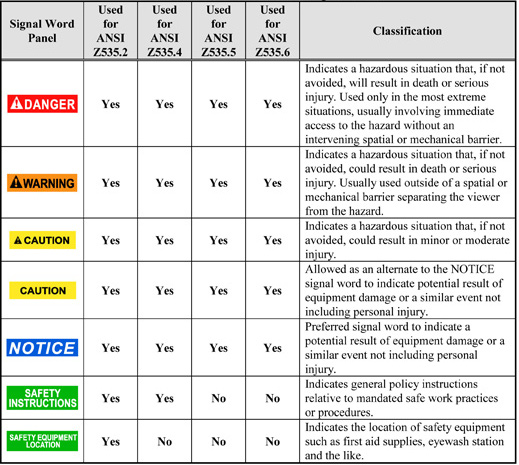 Table 1: Classification and Use of Signal Words
ANSI Z535.3: Criteria for Safety Symbols
Safety symbols may be used to augment or convey all or part of a safety message. If intended to substitute for a safety message, the symbol must have been validated – not fewer than 85 percent correct responses nor more than 5 percent critical confusions (i.e., wrong actions) – or there must be other means to inform the viewer of the meaning of the symbol such as training, instructions and manuals. Safety symbols can be particularly helpful where viewers are expected to have a variety of language or experience backgrounds.
ANSI Z535.5: Safety Tags and Barricade Tapes (for Temporary Hazards)
Safety tags are not to be used in place of permanent safety signs and labels intended for hazards in normal use, operation or maintenance. Safety tags are used to alert viewers to temporary hazards or other transient conditions. Safety barricade tapes are used to delineate hazardous areas from safe areas.
Examples of Power Utility Safety Signs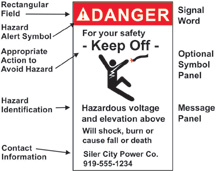 Transmission Tower or Inside Electric Supply Station
The typical tower or station structure sign uses a DANGER signal word because it is located at a height that would present a fall hazard. Use the WARNING signal word if the sign is located at eye level, i.e., not more than 6 feet above grade.
The symbol helps to promote an understanding of both a fall hazard and an electrical hazard. Where space is available, the words should be used with the symbol, particularly with viewers who do not understand the words.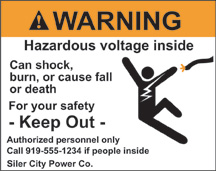 Electric Supply Station Perimeter Fence
The WARNING signal word is appropriate for a substation fence because there is little danger outside the fence. Some utilities use the electrified prohibitive hand symbol on substation entrance gate signs and the electrified falling man on the safety signs at other locations around the fence. However, most utilities adopt one symbol or the other for both types of perimeter signs. Both symbols test out with high comprehension.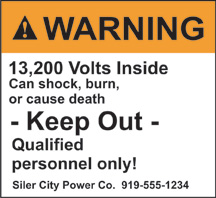 Vault Door Where Access to Energized Parts is Not Immediate
This sign is appropriate for vaults that contain energized equipment, but that do not present an immediate hazard to employees who enter the vault. The DANGER signal word should be used – along with the message that it will shock, burn or cause death – if the hazard is immediately presented to the worker entering the vault.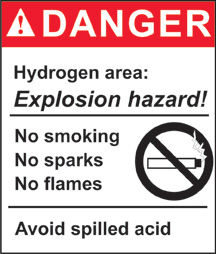 Battery Charging Area
The NESC requires specific prohibition against sparks, smoking and flames in areas where hydrogen may accumulate during battery-charging operations. A DANGER signal word is appropriate in the battery-charging area itself, but a WARNING sign is appropriate outside the entrance to a battery room.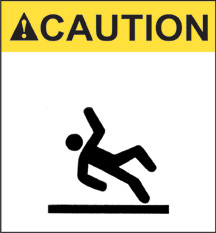 Blunt Trauma Slipping Hazard
The words "slippery when wet" may not be necessary in some environments, but there is usually enough space to include them on the sign. This symbol is the traditional symbol with the straight line under the sliding man. New versions sometimes use a more puddle-shaped black area under the foot. This is often used where condensation is a regular occurrence on a floor.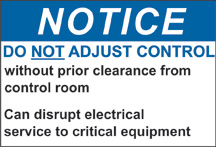 Process Interruption
Sometimes critical controls must be located in areas accessible to a variety of personnel in order to be used during maintenance procedures.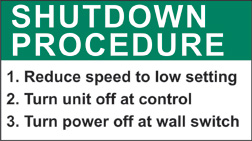 Safety Instructions for Shutdown Procedure
This message informs employees of safety procedures.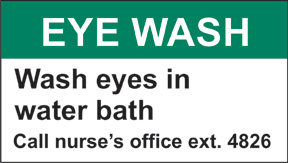 Safety Equipment Location and Safety Procedures for Eyewash
This message informs employees of the location of safety equipment and procedures for use of the equipment.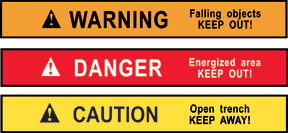 Barricade Tape
Barricade tapes may be red, orange or yellow with the DANGER, WARNING or CAUTION signal word, respectively, as appropriate for the type and immediacy of the potential hazard involved. While a DANGER tape is usually only used (a) to block off an area with a temporary access to energized parts behind doors opened for work or displaced for work or (b) to delineate the end of areas of substations that have been de-energized for work, they are sometimes used in public areas where emergency conditions have brought energized conductors or parts below normally required clearances.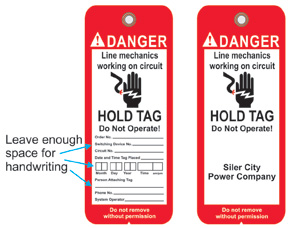 Safety Tag for Lockout/Tagout Program
Safety tags for lockout/tagout programs required under 29 CFR 1910.147 should be oriented toward the specific issues at hand. It may be desirable to have several formats available to address either specific hazards or limitations to specific hazardous activity, but only one tag format shall be used for a specific hazard issue, such as one format for electric utility clearances per 29 CFR 1910.269(m), one for electric generation switching per 1910.269(d) and another identifiable format for steam. ANSI Z535 gives wide latitude to the user about the specifics of the messages when implementing a lockout/tagout procedure. However, OSHA 1910.269(m) requires the tag to state "employee at work." These tags are attached with wire, cable ties or string of appropriate strength (see OSHA for more specifics about attachment strength and format) and often require the back side to have an alerting message in case the back side is turned toward the observer.
Note: Placement of substation signs is beyond the scope of this article, but readers should understand that placement of signs is dependent on avenues of approach, length of the fence, size of the sign and other factors. For more information, see ANSI Z535.2 Annex B and the note to Z535.2 section 11.1 or visit www.pcutraining.com.
About the Author: Allen L. Clapp, P.E., is president of the Power & Communication Utility Training Center. He has served on NESC subcommittees since 1971 and was NESC chair from 1984 to 1993. Clapp also served as chair of the ANSI Z535.2 Subcommittee from 1992 to 2008 and is a U.S. Department of Labor authorized OSHA regulations instructor. He can be reached at allenclapp@pcutraining.com.
Editor's Note: This article is an excerpt from an extensive discussion titled "Meeting the Safety Sign Standards of ANSI Z535-2011, 2012 NESC, and 2012 OSHA Regulations for Power and Communication Utility Installations" available from the Power & Communication Utility Training Center (www.pcutraining.com) as a document or as part of online training. Neither discusses all requirements of the ANSI Z535 family of standards, the NESC or OSHA regulations, and neither can replace detailed study of the requirements of the individual standards. The reader is cautioned to carefully consider the expected application of each type of safety sign or label with respect to the nature and seriousness of the expected hazards and the context within which the sign or label will be viewed.